Once upon a time, cigarette manufacturer Benson and Hedges introduced a 100mm tobacco cigarette. Not to be outdone, the Liggett and Myers Tobacco Company created the Chesterfield 101, marketing it as a "silly millimeter longer." You can still find the TV ad from the late 1960s on YouTube. Both tobacco products were nothing but marketing stunts, of course. It was the same old chopped tobacco, laced with additives and wrapped in paper, but the cigarette makers chose to give their products a story that was somehow connected with millimeters of length. In semiconductor manufacturing, millimeters mean something important. For example, you can put many more chips on a 300mm wafer compared to a 200mm wafer, which reduces production costs. All leading-edge semiconductor technologies now process 300mm wafers on 300mm wafer-making equipment. Consequently, 200mm fab statistics serve as proxies for older process nodes, because 200mm semiconductor manufacturing is still going strong for those nodes. Existing 200mm manufacturing lines and tools are fully amortized, so it's generally not economical to move chips made with older process nodes to the larger wafer size to further cut costs.
You must have heard about the current chip shortage by now, unless you're living on a deserted island. Perhaps you've heard more than enough about the topic. The chip shortage is being blamed for all sorts of other product shortages from cars and trucks to appliances, mobile phones, PCs, laptops, and all manner of electronic gadgets. I wrote about the chip shortage last year. (See "How Long Will it Take for the Chip Shortage to Ease?") In that article, I discussed the dire situation of the Ford truck plant in Louisville, Kentucky, my home town, where incomplete F-150 trucks were piling up like cordwood, awaiting chips. As in semiconductors.
As I write this article, things seem little better. Retail car inventories are significantly down and it seems they'll stay that way. Toyota announced production cutbacks of 100,000 vehicles in April and blamed the cutbacks on a shortage of semiconductor parts. Also in April, General Motors' CFO Paul Jacobson said that his company doesn't "expect a material increase in inventories this year."
At the end of March, Kelley Blue Book's Website ran an article by Sean Tucker titled "Microchip Shortage Update: Car Production Still Slowed" that said, "…manufacturers built almost 2 million fewer cars last year than in 2019 (the last pre-pandemic year). The numbers were low largely because of a global shortage of microchips. It has begun to ease, but slowly."
Demand for semiconductors remains high across the board, and semiconductor manufacturers continue their struggle to meet that demand. Demand for processors and memory to populate PC, laptop, and server boards remains high, and supplies are tight, despite the manufacturers shipping everything they can. The top semiconductor manufacturers, including Intel, TSMC, and Samsung, are spending many tens of billions of dollars to build and equip new fabs capable of making parts with cutting-edge process nodes, but we likely won't see the effects of those investments for three to five years. But please understand this: Ford, Toyota, GM, and other vehicle makers are not in need of the latest, bleeding-edge chips. No, their vehicles need microcontrollers, sensors, discrete power semiconductors, and similar parts made on older process nodes.
In my previous article about the chip shortage, I cited a report published last September by Semi, the industry association that serves the global electronics design and manufacturing supply chain, which was titled "200mm Fab Outlook to 2024." That report said:
"Semiconductor manufacturers worldwide are on track to boost 200mm fab capacity by 950,000 wafers, or 17%, from 2020 through 2024 to reach a record high of 6.6 million wafers per month… during the same period, wafer manufacturers will add 22 new 200mm fabs to help meet growing demand for 5G, automotive and Internet of Things (IoT) devices that rely on analog, power management and display driver integrated circuits (ICs), MOSFETs, microcontroller units (MCUs) and sensors."
Well, Semi has just updated that 200mm fab report, and the latest information is encouraging. According to Semi's latest figures, 200mm capacity has been rising, no doubt driven by growth in demand for mobile, automotive, and IoT (Internet of Things) applications. These applications do not require leading-edge manufacturing technologies. They require a range of bread-and-butter semiconductor products including power devices, analog ICs, and MEMS sensors. These types of semiconductors constitute profitable business lines, so there's ample reason to continue making them, especially considering the price hikes caused by recent demand spikes and the subsequent shortages.
According to this latest Semi report, 200mm fab capacity increased 6% in 2021, is expected to increase by 5% in 2022, and will increase again by another 3% in 2023. The new report projects more moderate growth of about 2% in 2024. Want more details? Well, Semi wouldn't send me the report because they didn't want me to give away their store, which I can understand. They want you to buy the report to get the details. However, Semi did send me some interesting graphs from the latest version of the report, so I will discuss those.
Let's start with the macro look at 200mm fab capacity: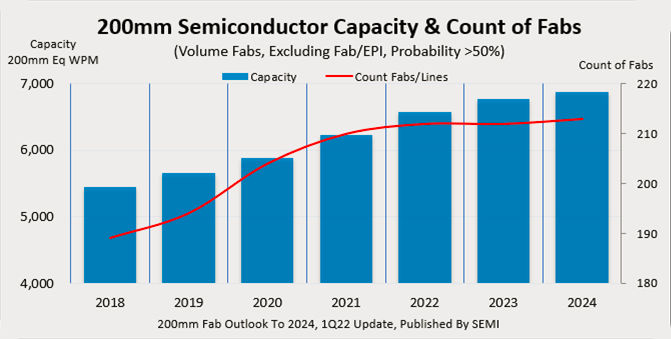 This graph shows a few things. First, there's been a real boom in building new 200mm fabs and adding 200mm manufacturing lines to existing fabs. That's the red line in the graph above. You can see a steep rise in this statistic starting in 2019. The blue bars on the same graph tell you that Semi expects 200mm wafer capacity to jump from about 5500 thousands of wafers per month (WPM) in 2018 to nearly 7000 in 2024, which is where the current report ends. The previous high-water mark for 200mm capacity was 5500 thousands of WPM, set way back in 2007. After that year, 200mm wafer capacity fell for eight years.
Last year's report from Semi said that the number of 200mm fabs bottomed out at 180 in 2015, down from the previous peak of 202 fabs. By 2024, we will have a new high-water mark of more than 210 200mm fabs and fab lines, according to the report.
The next graph from the latest report is similarly informative and provides a regional breakout for the number of 200mm fabs in the world.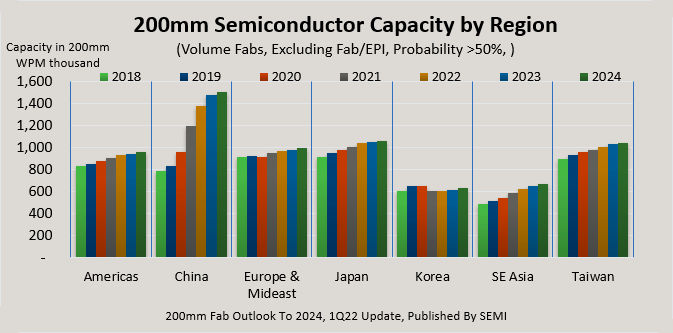 As you can see, there's strong and steady growth in 200mm fab capacity in the Americas and Japan, somewhat better growth in 200mm capacity in Southeast Asia and Taiwan, and explosive growth in China starting in the year 2020. This data aligns with the anecdotal reports I've seen of Chinese manufacturers virtually cornering the market for older semiconductor manufacturing equipment. Meanwhile, Korean semiconductor manufacturers seem disconnected from the 200mm situation. There seems to be no growth in 200mm fab capacity there.
The third graph from the most recent Semi 200mm fab report really surprised me. It shows the types of semiconductors being made on these 200mm lines.
My good friend Jim Handy, The Memory Guy, published an article on April 27 that puts the chip shortage into sharp focus. The article is titled "How the Chip Shortage Impacts Memories." In this article, Handy points out that the semiconductor industry has grown by 3.9%, on average, since 1996. However, there have been large, event-driven deviations from that trend, which Handy plotted on a convenient graph. (Reproduced below, with permission.)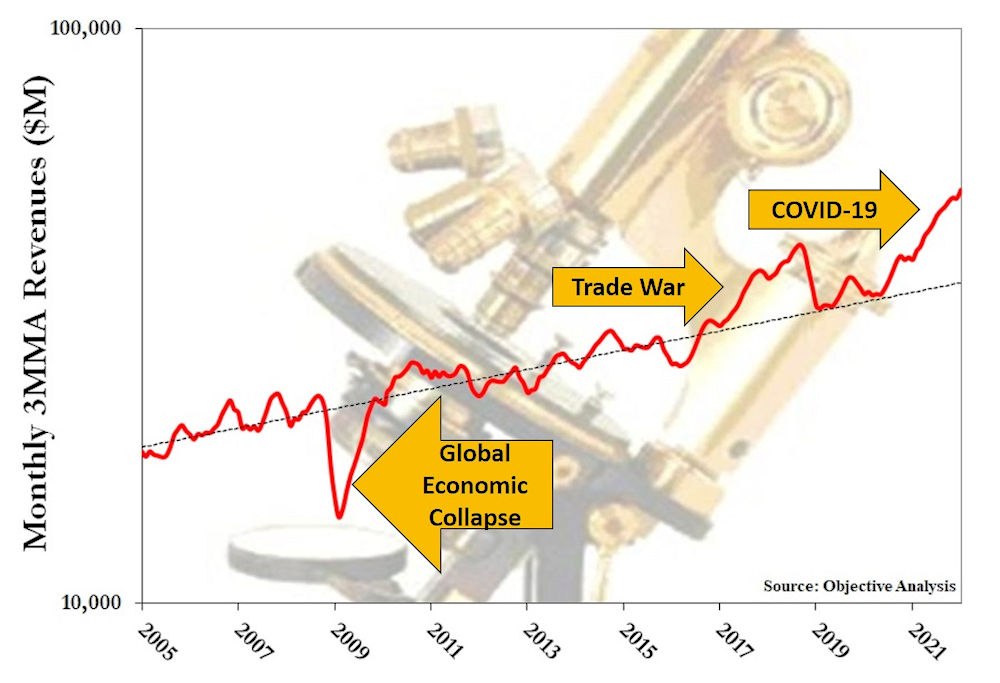 Handy's graph plots the three-month moving average (3MMA) for semiconductor revenue over time as a red curve and shows a 3.9% trend line as a black dashed line. The graph also plots three major world events and shows how they affected semiconductor revenue growth. The Great Recession in 2009 severely cut demand, created a glut, and slashed semiconductor revenue.
The US-China trade war in 2017 caused companies to buy more than they needed as a buffer against potential shortages. This overordering caused a real shortage, because the chipmakers couldn't keep up the pace, resulting in rising prices.
The Covid-19 pandemic caused people and companies alike to order more of everything electronic to accommodate working at home, resulting in a 45% increase in revenues. Part of that increase is due to rising unit prices, but the rest is due to massive, above-average shipments. Chipmakers have been shipping everything they can make while also investing in massive capacity growth.
Handy concludes:
"How is this likely to end?  If you have another look at the chart there seems to be every reason to expect for the market to return to its original 3.9% growth level, the black dashed line, at some point.  It always does.  That won't be easy, since February revenues were 45% above trend.  The shortage and its record revenues will end, though, and when they do revenues are likely to follow the same steep decline that the chart makes so clear in 2019, and that also shows up to a far smaller degree in the six little downturns between 2010 and 2017."
Since the September 2021 report, Semi's Market Intelligence Team has made 64 changes affecting 47 fabs and lines with two new listings and one deletion to its "200mm Fab Outlook to 2024." If you want to see more details from the Semi 200mm fab report, click here to get information about purchasing the report.