When can I see you again?
I've been waiting out here for so long and I don't seem to find a reason
To keep building these castles out of snow – "When," Susanne Sundfør 
The above song "When," written and sung by Norwegian singer-songwriter Susanne Sundfør, served as the haunting opening theme for the recent soapy World War II miniseries docudrama "Atlantic Crossing," which appeared in the US on PBS earlier this year. (I think "Atlantic Crossing" was more drama than documentary, but it was fun to watch in any case.) The song lyrics perfectly portray the longing of Norway's Princess Martha, who is longing for and waiting to reunite with Crown Prince Olav as he works in Norway and then in London to garner allied support to free Norway from Nazi occupation. To me, these song lyrics also perfectly portray the laments of the world's OEMs as they await the end to the latest global chip shortage, which is wreaking havoc on every industry that depends on electronics. Today, that's every industry.
I have lost count of the many times I've heard pundits and semiconductor execs say that the semiconductor industry has "finally" dispensed with the cyclic nature of the business. It must have been scores of times over the past 50 years. It wasn't true 50 years ago; it's never been true in the interim; and it's not true now that we're experiencing the latest chip shortage.
As long as we make chips with multi-billion-dollar fabs, and as long as those fabs take years to build, facilitize, and operationalize, cyclic shortages will recur. There's simply no way to synchronize multi-year build cycles for fabs and the abrupt demand changes for semiconductors that can occur over the span of just a few short weeks. The current Covid pandemic exacerbated the semiconductor industry's classic boom and bust cycle, but it did not create it.
We ran out of toilet paper thanks to panic buying! What makes people think that semiconductors are somehow different?
One of the frequent mistakes that I see the general press outlets make is that they tend to group all semiconductor production into one lump – generally calling all ICs "computer chips." That's just not a good representation of how the world makes or uses semiconductors.
Bleeding-edge parts like microprocessors, mobile phone chipsets, and FPGAs are made using the most advanced process nodes in the most modern fabs – the fabs that cost billions and billions of dollars. Highly visible semiconductor companies including AMD, Intel, Samsung, and Nvidia make their newest generations of parts in these high-end fabs. These companies and their manufacturing partners are building new high-end fabs as fast as they can. Intel's Pat Gelsinger has bragged that Intel is tying up all of the concrete trucks in several countries just for building Intel's new fabs in places like Oregon, Arizona, and Ireland. It's great hyperbole, although not strictly true. Even so, Intel and TSMC are indeed building many new high-end fabs to try to meet demand for their most advanced parts.
However, the vast majority of the chips we use daily are not made in high-end fabs. They're made using older process nodes in older fabs that have likely been fully or substantially amortized. This is especially true of parts designed for automotive applications. Cars and trucks are filled with microcontrollers that aren't made with and don't require EUV or other sorts of advanced lithography.
There's a shortage of automotive chips, but not because 10, 7, 5, or 3 nm process nodes are late out of the gate. The automobile companies saw Covid drawing near in their rear-view mirrors, guessed that Covid's effects would reduce new car sales, and dropped their advanced orders for chips.
However, the dip in new car sales proved short-lived, and suddenly, demand for new cars skyrocketed. When the automakers tried to file new chip orders, they discovered that the fab capacity that had been dedicated to making automotive chips had been reallocated to other customers. Lead times went through the roof and these automakers now find themselves with severe chip shortages. As a result, new cars and trucks are being built, but without the semiconductors needed to finish them. Without the chips, they can't be shipped.
Consequently, car and truck makers are stockpiling mostly finished vehicles wherever they can find space. For example, Ford reportedly started stockpiling partially finished F-150 pickup trucks in parking lots near the Detroit airport, at a Department of Public Works rail yard near Detroit, and in a 30-acre parking lot at the Kentucky Speedway east of Carrollton, Kentucky. (I grew up in Louisville and I've been to the Ford Assembly Plant outside of the city.)
Note: To watch a video clip made in early May by local TV station WHAS in Louisville, Kentucky that graphically characterized the Ford truck situation back then, click here.

Ford isn't alone. General Motors, Ford, Nissan, Daimler, BMW, and Renault have all announced production cuts in the face of the global chip shortage. Even Toyota, a company that seemed to have the best handle on its production needs throughout the Covid pandemic, was forced to announce a 40% cut in vehicle production starting in September of this year. Toyota benefited from having a large chip stockpile because the company had revamped its plans for business continuity in the wake of a catastrophe caused by the Fukushima earthquake and tsunami disasters a decade ago. But no stockpile lasts forever without replenishment.
The looming problem here is that automotive semiconductors are not made on the latest fab lines on 300 mm wafers using exotic processes such as EUV lithography. These parts are made on older fab lines, using older process nodes, and often using 200 mm wafers. I had thought that no one would be building any more 200 mm fabs. They've been out of fashion for two decades and I thought they were being decommissioned.
According to a report titled "200mm Fab Outlook to 2024," published earlier this year by Semi, the industry association that serves the global electronics design and manufacturing supply chain, I am wrong. That report says:
"Semiconductor manufacturers worldwide are on track to boost 200mm fab capacity by 950,000 wafers, or 17%, from 2020 through 2024 to reach a record high of 6.6 million wafers per month… during the same period, wafer manufacturers will add 22 new 200mm fabs to help meet growing demand for 5G, automotive and Internet of Things (IoT) devices that rely on analog, power management and display driver integrated circuits (ICs), MOSFETs, microcontroller units (MCUs) and sensors."
However, a little more research shows that I was also right. The number of 200 mm wafers produced each month did drop from 2006 to 2015, according to Semi, which also says that the number of 200 mm fabs bottomed out at 180 in 2015, down from the previous peak of 202 fabs. Since then, the number of 200 mm fabs and the monthly capacity for manufacturing 200 mm wafers have been rising, but not nearly fast enough to meet the recent, sudden jump in demand.
Here's a chart from Semi showing both the rise in the industry's total monthly 200 mm wafer capacity and the number of 200 mm wafer fabs expected to be on line: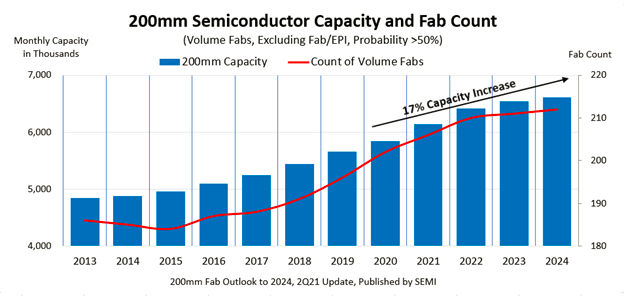 As you can see, there's currently a building boom in 200 mm fabs and an increase in the aggregate number of wafers these fabs can produce. These numbers do not include the high-end 300 mm fabs that seem to garner most of the press.
So it's not "just" fab capacity creating the chip shortage. The above chart suggests that the industry has been doing a good job of tracking demand. So, it's something else. From what I can tell, there are two reasons for the current chip shortage. The first, and biggest reason, I think, is skyrocketing demand. Over the last year and a half, a big chunk of the world started to work from home. That's at least true for information workers. These workers need all sorts of electronic infrastructure to accomplish their work at home, from laptops, tablets, and mobile phones to massive cloud support, which drives demand for servers, networking and broadband equipment, and cellular network infrastructure. In turn, the equipment demand drives a ravenous demand for chips. The other reason happens to be packaging. There just aren't enough IC packages to house all of that silicon coming out of the fabs.
As far as the automobile industry's shortage – well, that appears to be mostly self-inflicted, caused by super-lean inventory controls and brutal supply-chain management driven by the need to wring every penny out of production costs. A September 19 media alert from IDC titled "Semiconductor Market to Grow By 17.3% in 2021 and Reach Potential Overcapacity by 2023, IDC Reports" states:
"According to IDC, the industry will see normalization and balance by the middle of 2022, with a potential for overcapacity in 2023 as larger scale capacity expansions begin to come online towards the end of 2022."
AMD's CEO Lisa Su said much the same thing about expecting the chip shortage to ease in the latter half of 2022 at the Code 2021 Conference held during the week of September 26 in Beverly Hills, California.
We'll give Intel CEO Pat Gelsinger the last word here, because he really had the first word, chronologically speaking. In July, Gelsinger predicted that it would take a year or two to bring semiconductor supply back into balance with demand. Gelsinger has essentially infinite research resources at his fingertips to get the sort of information needed to back his predictions, at least in comparison to the resources available to a lone EEJournal editor, so I'm pretty comfortable going with IDC's, Lisa Su's, and Gelsinger's forecasts. Look for balance in the force in 2022 and for the silicon pendulum to swing the other way in 2023.

What about you? Is the chip shortage cramping your style? Let me know in the comments below.