Our EE Journal Team is back from World Maker Faire 2018! Every year, we take a trip to World Maker Faire in New York City to check out the hundreds of booths at the New York Hall of Science where makers come to  "show and tell" their projects. The creations on display at the Faire can range from homemade arts and crafts like needlepoint and quilting, to smart home devices built from scratch, to students making their own computer chips. It's a chance for makers who work with origami and makers who work with arduino boards to come together and celebrate creating, doing-it-yourself, problem-solving, and hands-on learning.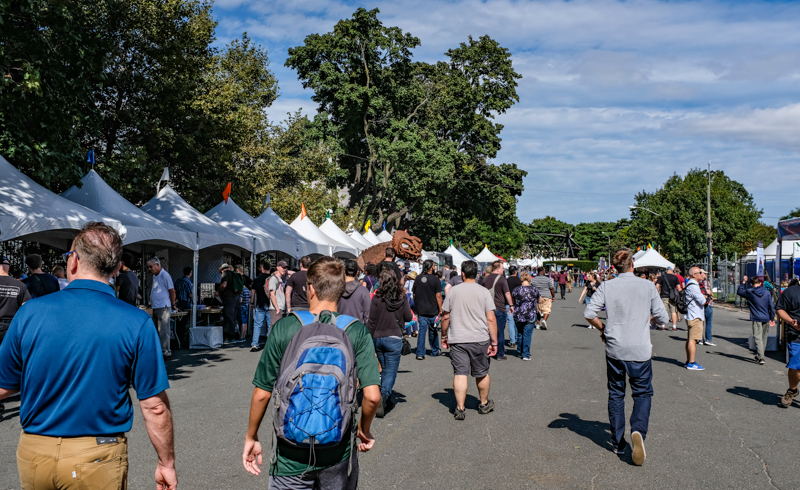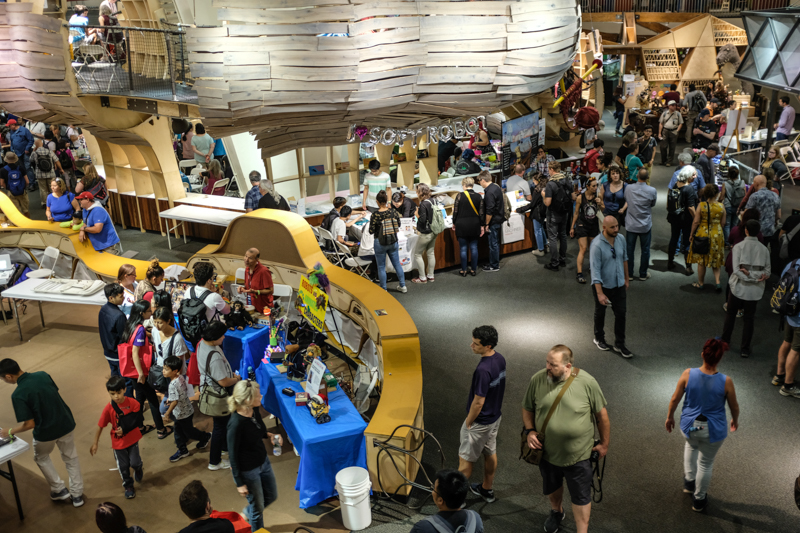 This year, we got to see electronic games, robots, puppets, electronic games you can play against a robot, and robot puppets that can crush cars. (Along with nearly every 3D printed object under the sun).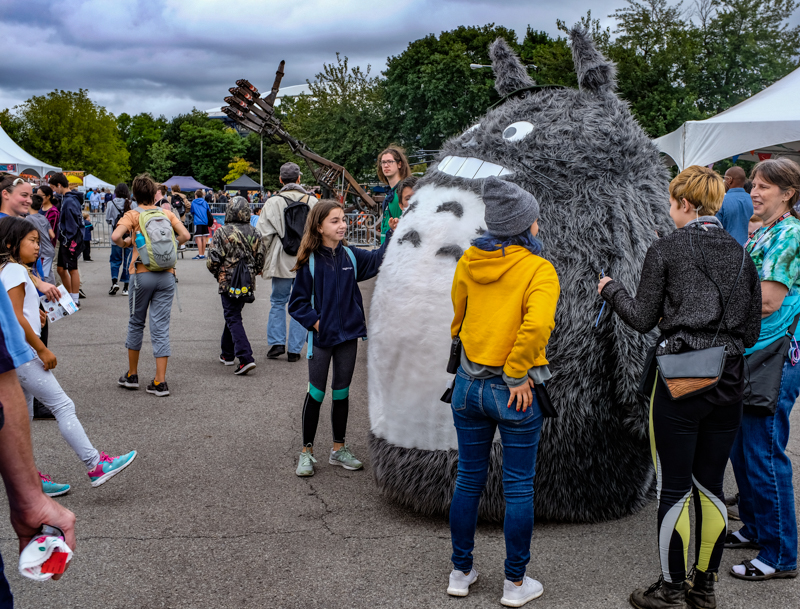 Continuing the tradition we started at last year's Faire, our EE Journal team has selected our Editors' Choice projects from the 2018 World Maker Faire. We were looking for curiosity, problem-solving process, and creativity in electronic engineering. We wanted to choose makers who approached electronics in an interesting and exciting way. We wanted to recognize people and projects that we felt exemplified the spirit of the engineer of the future.
Neil Deshmukh's AI Human Detection Program on Raspberry Pi with Intel Movidius Neural Compute Stick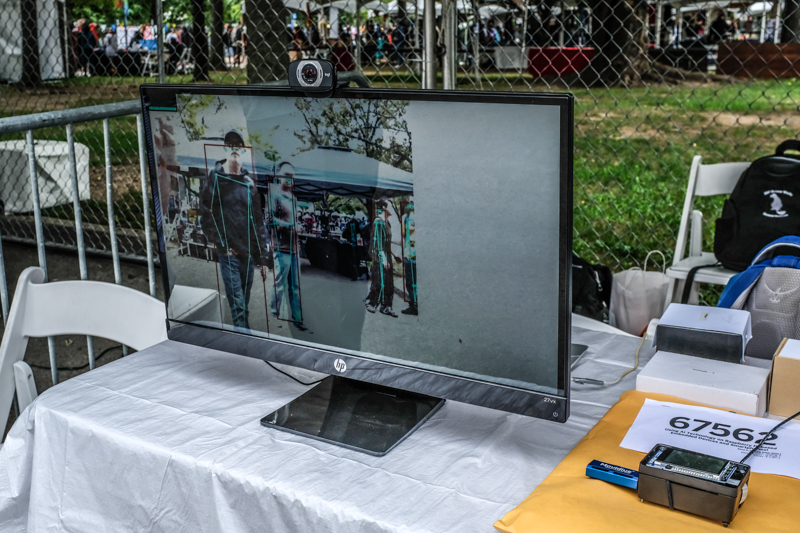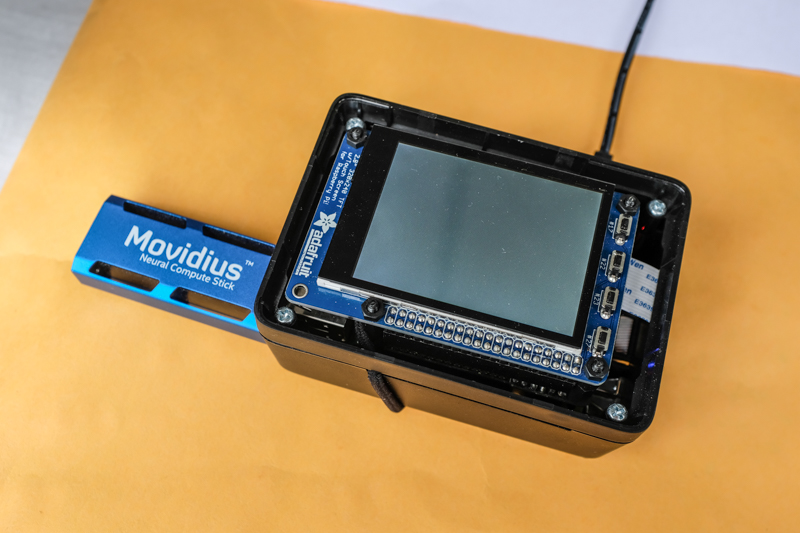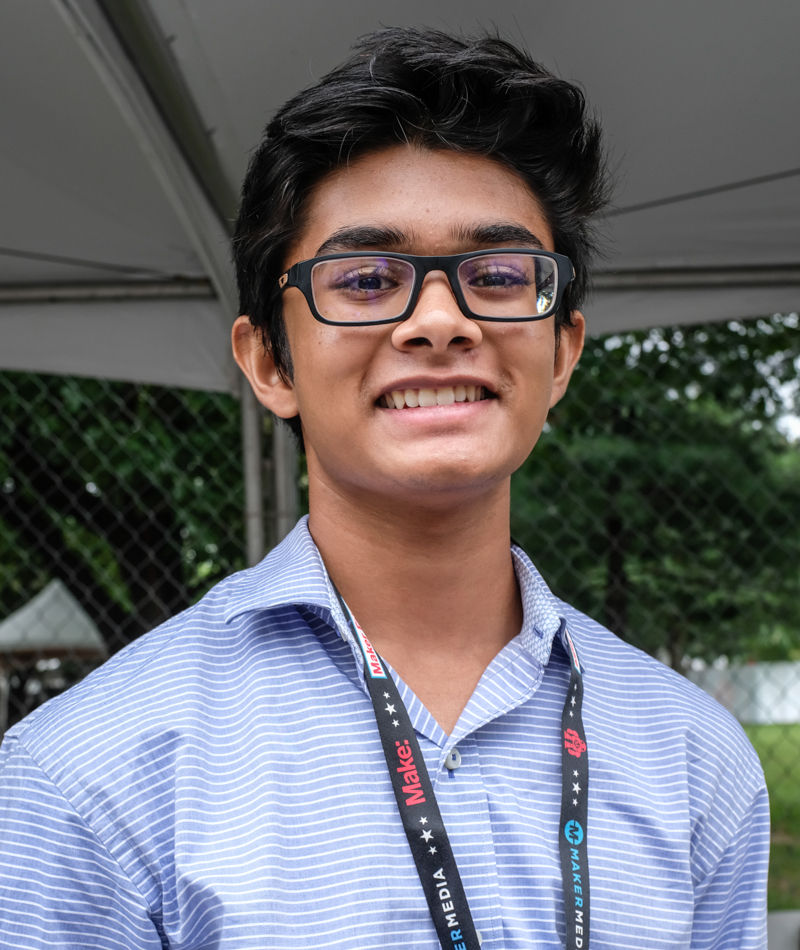 11th grader Neil Deshmukh is passionate about AI and neural networks. One of the most exciting experiences for us at Maker Faire is walking up to young makers' booths to look at their cool project and listen to them excitedly explain the whole thing to you: each bit of complexity, every technical challenge they encountered, and all the new things they had to learn or adapt to to put together their final creation. When Neil talks about his projects, he exudes exactly this kind of enthusiasm and deep investment in engineering and problem-solving.
When you walk by Neil's booth, his project will likely notice you before he does. His low power AI (running on Raspberry Pi) identifies and tracks people walking by and renders simple stick figures over their image on a monitor. Maker Faire attendees crowded around the display, striking poses in front of the AI and watching as the stick arms moved over their own.
Neil uses a Movidius stick mated to his Raspberry Pi to process a video stream coming from a webcam. Neil used a couple of "free" cloud computing accounts to access the massive compute power he needed to train his convolutional neural network (CNN) using millions of images from a training set he downloaded. He developed his embedded application using TensorFlow, and The Raspberry Pi/Movidius combo gives enormous compute power (over 80 GFlops) for CNN inferencing on a tiny power budget and in a small form factor. It's an impressive project, and the demo performed flawlessly – with great accuracy and no perceptible latency.
Now you can make your own version of Xbox "Kinect" with a handful of off-the-shelf components. Oh, wait; you weren't developing your own AI embedded vision applications using neural network inference accelerators when you were in high school?
Matteo Harris's Smart Phone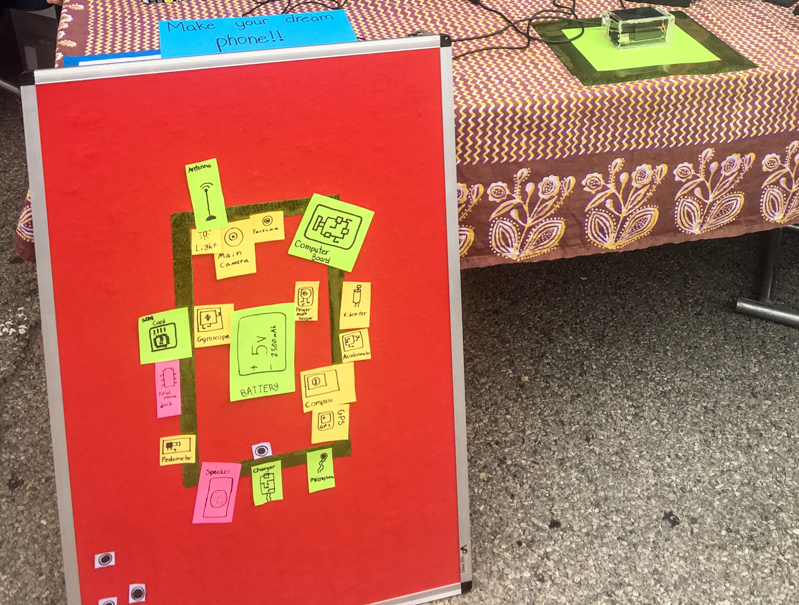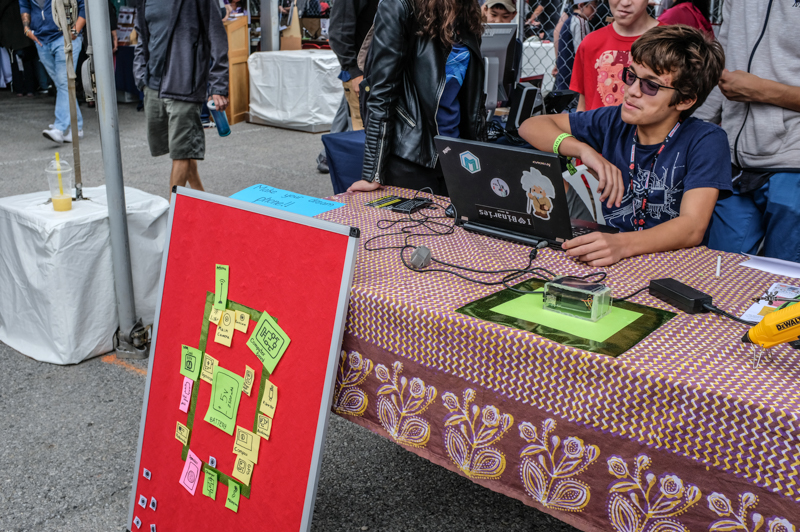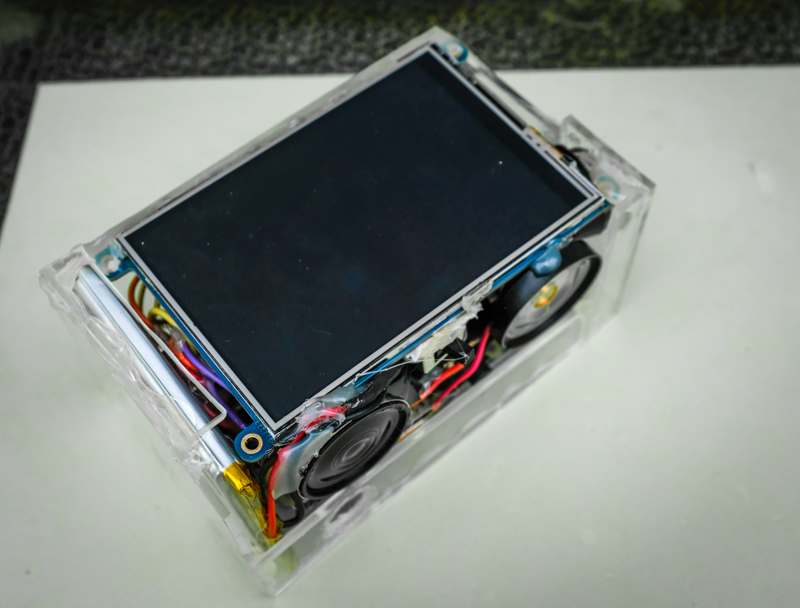 Matteo Harris, who is now starting his 10th grade year in school, told us he's been attending World Maker Faire every year since it started. This is his second year as an official "maker" at the Faire with his own booth to display his project.
When Matteo's parents told him they were not going to buy him a smartphone, he decided to make his own.
"I wanted something that could do more than just make calls."
Matteo's raspberry pi smartphone runs on python and can call, text, and receive voice commands. It has a built-in camera and a GPS and, as several of his friends in the booth were quick to tell us, you can use it to play games.
The project took about six months, and Matteo said that most of that time was spent waiting for parts. Figuring out all the correct parts to order was part of the challenge.
"I'd order a part, and then wait, and then when I got it I'd realize I'd need a whole other system to actually make that part work."
Matteo got speakers but found out the audio levels he was creating were not sufficient to drive them. At first, he thought the problem was his speakers, so he ordered different ones. When the new ones had the same issue, more research revealed that he needed an audio amplifier to bring the headphone-level signals he had up to speaker-driving levels. Another order-and-wait cycle finally got him the parts he needed.
Similar trials surrounded the integration of many of the subsystems Matteo designed in, which included battery, charger, antenna, accelerometers, gyro, fingerprint sensor, camera, selfie camera, light, GPS, vibrator, speakers, microphone… in other words, pretty much everything you'd find in a modern smartphone. Watch out, Samsung and Apple – Matteo is coming for ya!
Big Hero Egyptian Robotics Team's Cotton Candy Robot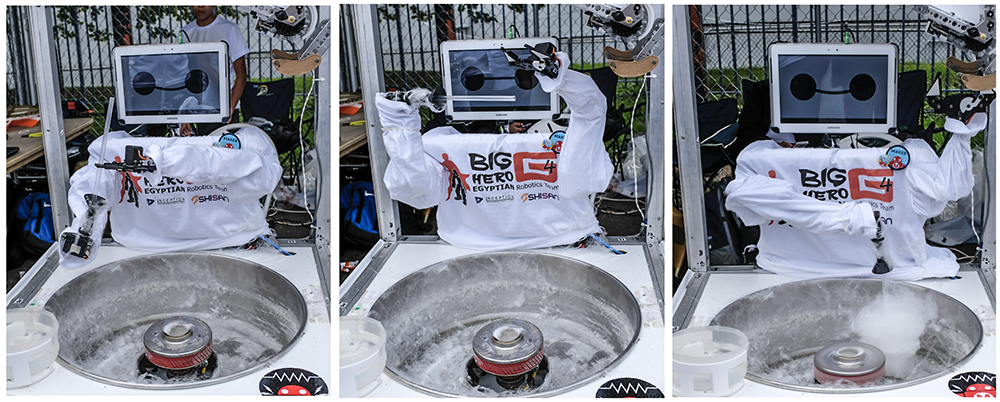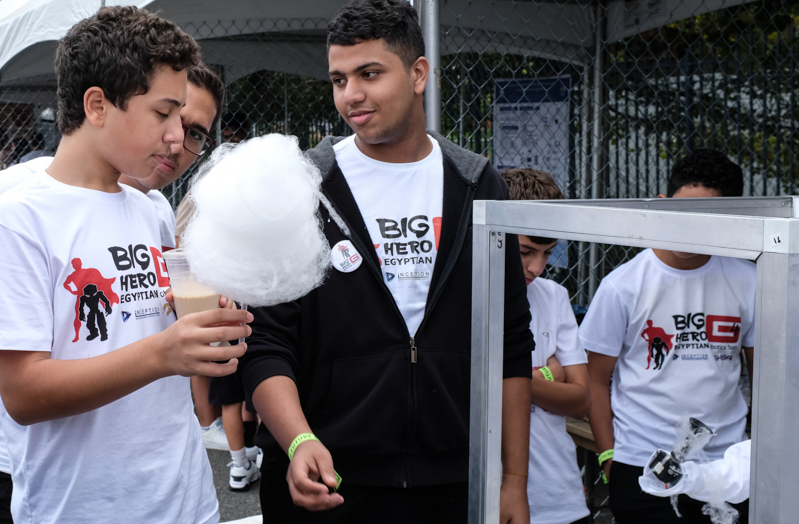 Did the Cotton Candy Robot attempt to bribe its way onto our Editors' Choice list by giving us some fresh made cotton candy during a demonstration? No way to know for sure. The real things that won us over were the enthusiasm of the team of young makers who designed and built the robot (Adham Hanafy, Ziad ELBadry, Mostafa Eid, and Seif Zayed, all under 14 when they began building the robot), and the flair of the robot itself while it did its work. The Big Hero Egyptian Robotics Team's robot doesn't just simply make cotton candy, it does so with a bit of pizzazz: choosing a straw and displaying it to the audience, and then giving it an artful double-tap before dipping the straw in liquid and spinning (with flourish) cotton candy that would make any carnie proud.
The Cotton Candy robot is a lovely representative of the often whimsical nature of Maker Faire projects, but also one that required real engineering problem-solving from its team of young creators. It's also a project that could potentially be only a first step on the road to more complex and useful designs. The team's goal is to one day build a robot that can cook a full meal.
Aside from our Editors' Choice selections, there were several other interesting exhibits at Maker Faire that got our attention:
"Flexy" is a super-flexible, ARM Cortex-M0 powered, Arduino-compatible board. Now, thanks to Flexy, your IoT socks won't have that giant uncomfortable lump where the circuit board is.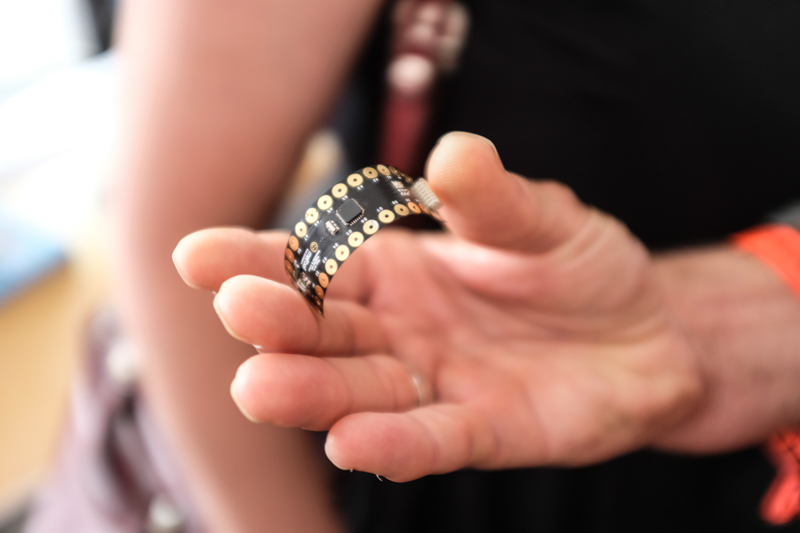 If your dev-board projects end up looking like something your kids brought home from kindergarten, you can raise your game with elegant supports and enclosures from Phase Dock, which will make them look like something designed by an actual engineer. The "Pro3 EcoSystem" system of mounts, supports, and enclosures will dress up any project and give a good deal of protection in the process.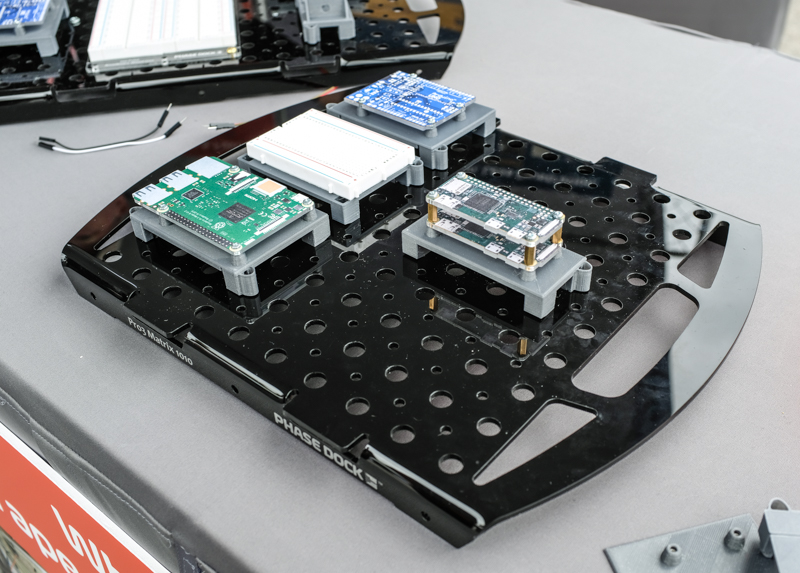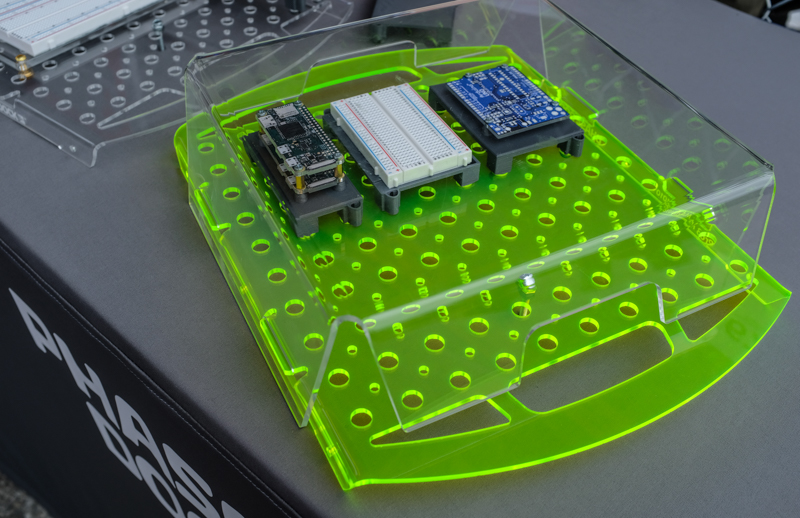 If your friends are always beating you at video games, you might want to build one of these "anti-controllers", which levels the playing field by slightly messing up skilled players, while boosting the skills of novices.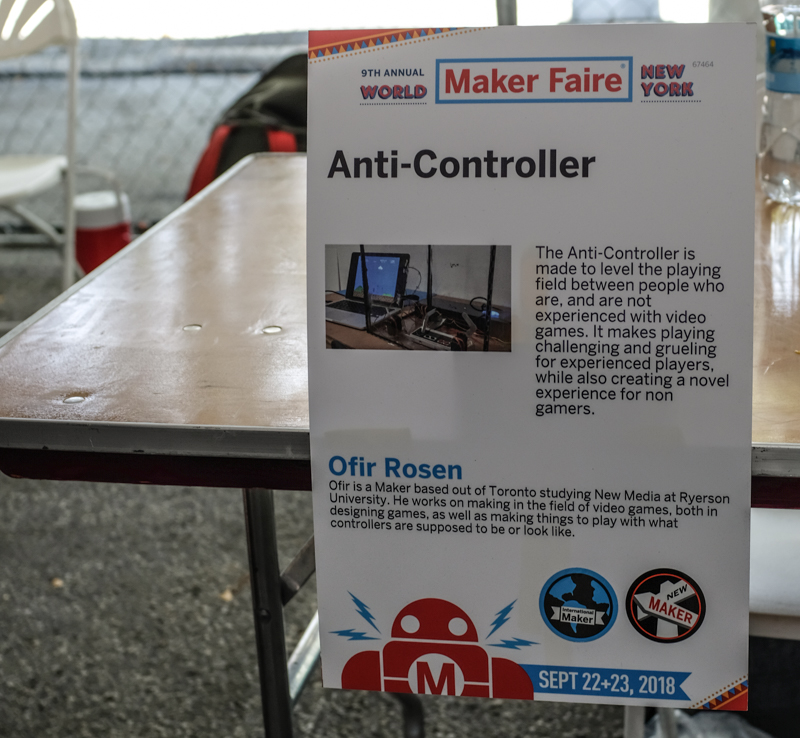 Digi-Key has a slick new desktop PCB milling machine that could accelerate your prototype creation: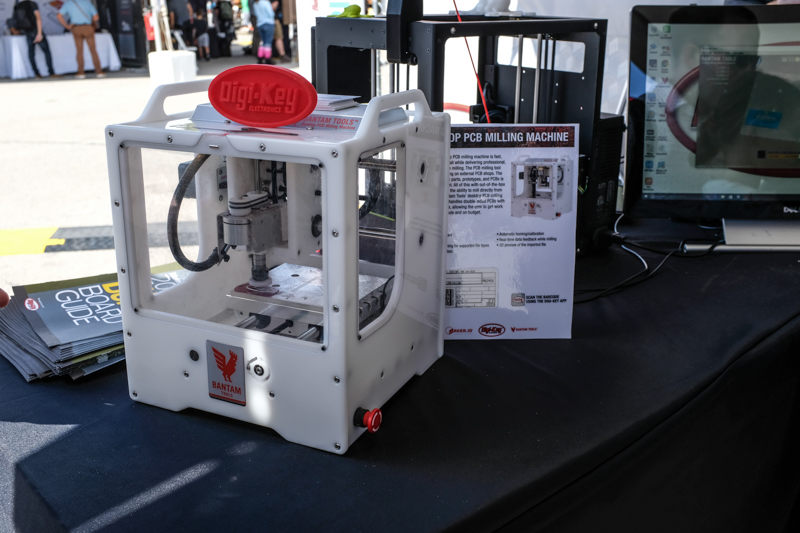 The Coke Zero and Mentos fountain demo from the guys at Eepybird is always fun.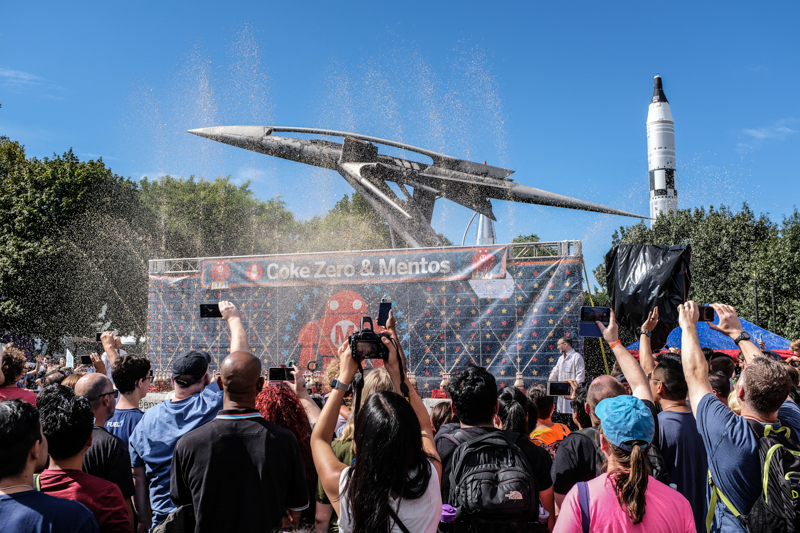 And every year, the "Learn to Solder"  tent has the longest lines at Maker Faire. Wear those safety glasses, kids!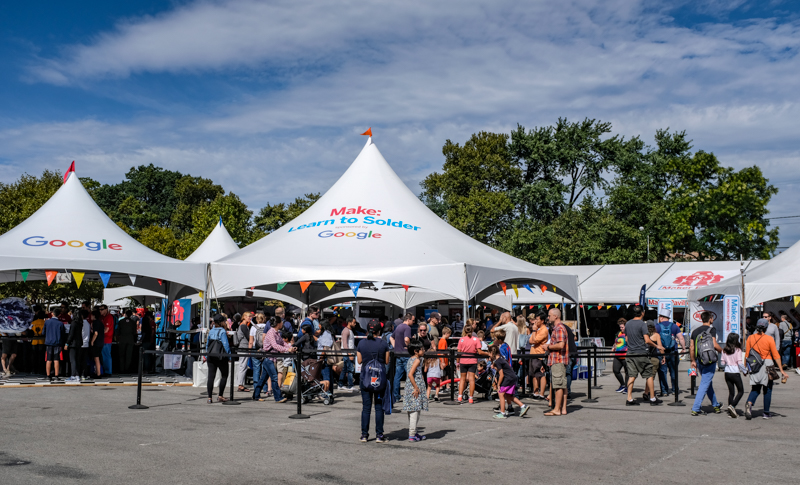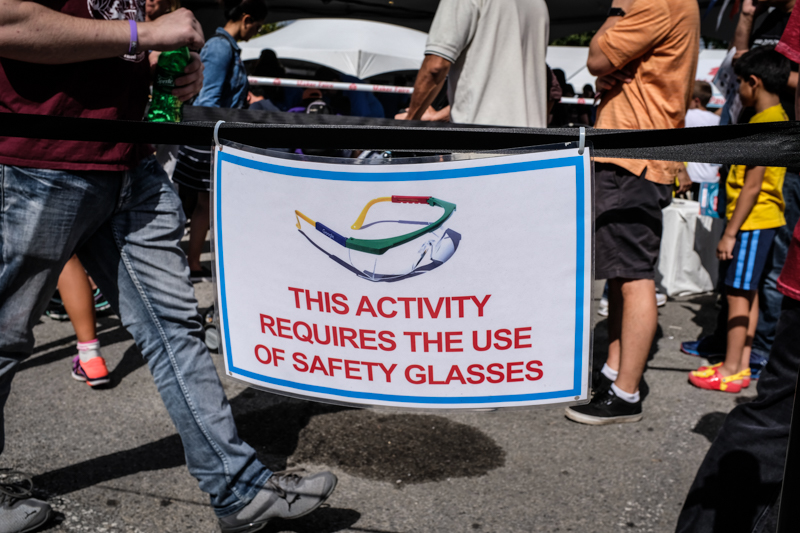 Nick Felker showed us how he made a device to print a running transcript of your conversation with your Google Home device.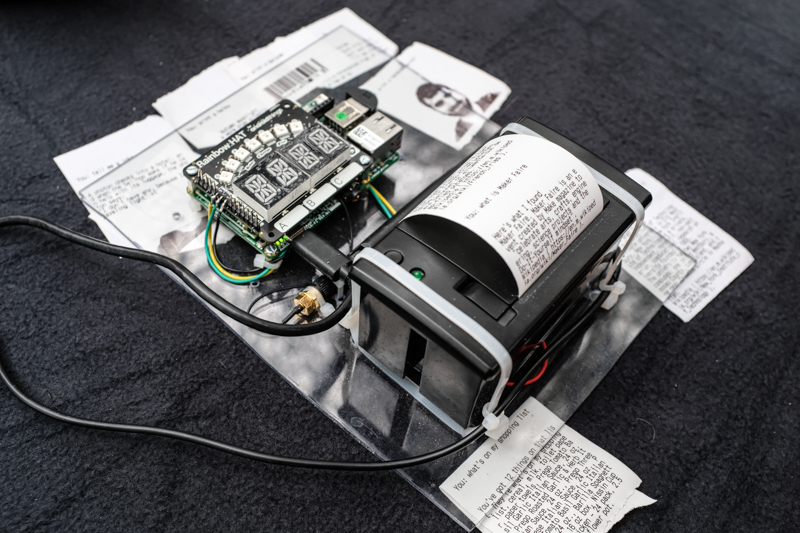 And last year's "EE Journal Editors' Choice" feature Sam Zeloof was back with more information on his home semiconductor fab.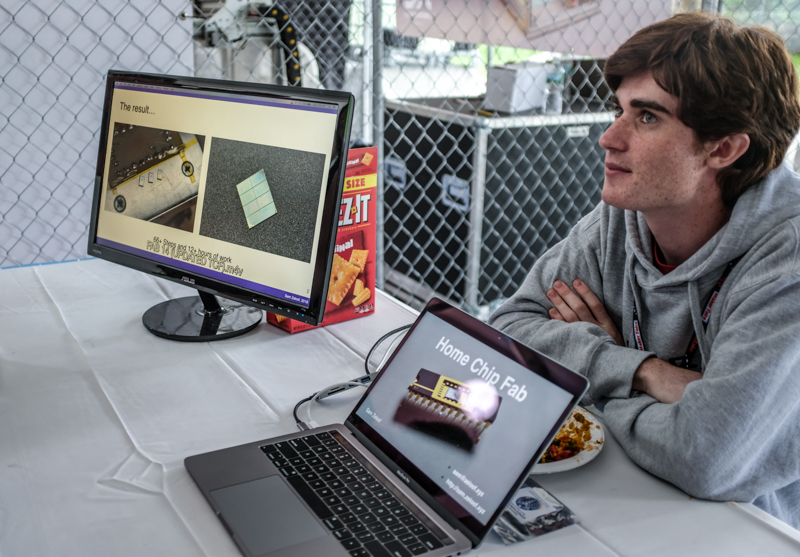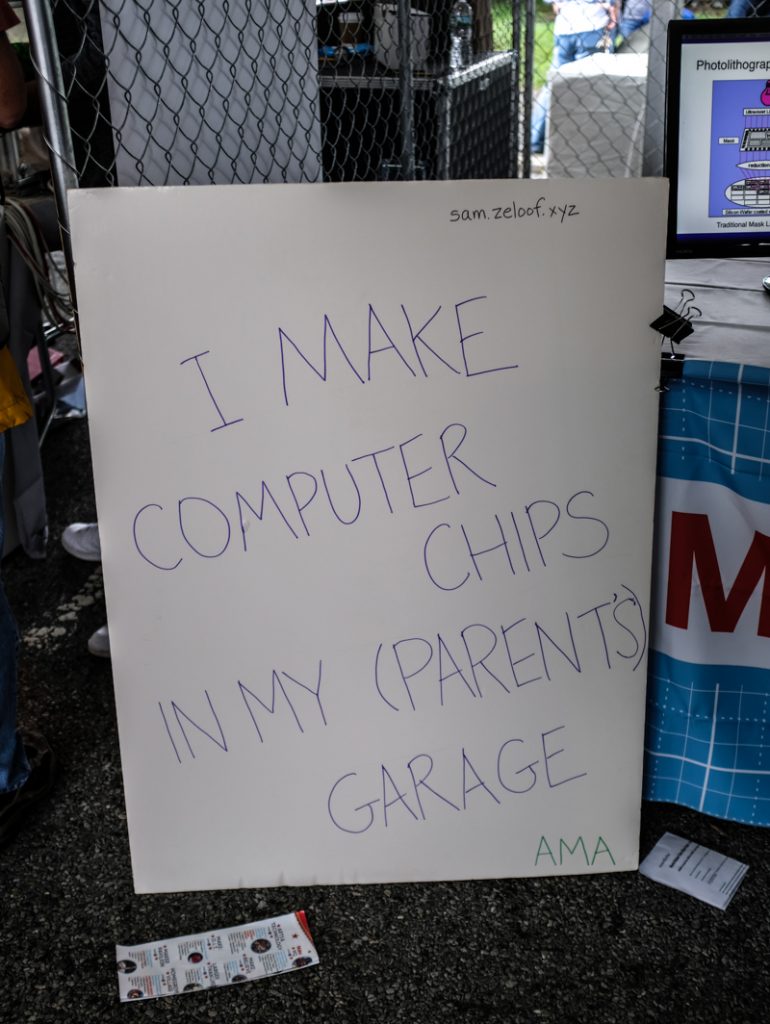 And there was the usual fun and silliness we have come to associate with Maker Faire.