I'm scared of being in a submarine. I don't know why because I've never been on (or should it be "in") one of these magnificent machines. One of my friends used to be a submariner and he regaled me with some awesome anecdotes, but nothing he said would persuade me to dive in, as it were. I think it's the thought of the pressure of all that water above and around.
By comparison, I would have no problem going into space should the occasion arise. For example, if Jeff Bezos called to tell me that a seat had opened up on the next Blue Origin flight because William Shatner couldn't make it (let's say Fear of Pop had decided to regroup and embark on a worldwide tour), so would I care to take his place, the answer would be a resounding "Yes!"
My interest in space dates from when I started to read science fiction as a young lad. In 1969, when I was 12 years old, Neil Armstrong and Buzz Aldrin landed on the Moon. When the Apollo 11 command module separated from the lunar lander in order for the latter to commence its descent, my father—who typically had little interest in anything of a scientific or technological nature—poured us both a tot of whisky (mine was more like a hint of a sniff of a whiff). When the lunar lander touched down, dad told me that we had just been privileged to see one of the most amazing things humans had ever done, then we raised our glasses to toast the brave astronauts and quaffed our whisky (it was the worst thing I'd ever tasted up to that time).
I still get a little tear in my eye whenever I watch the video of Neil Armstrong saying those fateful words: "Houston, Tranquility Base here. The Eagle has landed."
The last time people visited the moon was on Apollo 17 in 1972. Including that mission, only 12 human beings have set foot on the moon. Then… nothing happened…
Well, that's not strictly true. We've had tremendous successes with unpeopled probes, like the Curiosity rover that landed on Mars in 2012 and the Perseverance rover (with its Ingenuity mini helicopter) that landed on Mars in 2021. Then there was the Rosetta space probe, whose Philae lander module touched down on comet 67P/Churyumov–Gerasimenko (67P for short) in 2014. And who can forget the images of Pluto and its moon Charon taken in 2015 by the New Horizons probe as it raced past at an amazing 26,700 mph (43,000 km/h)?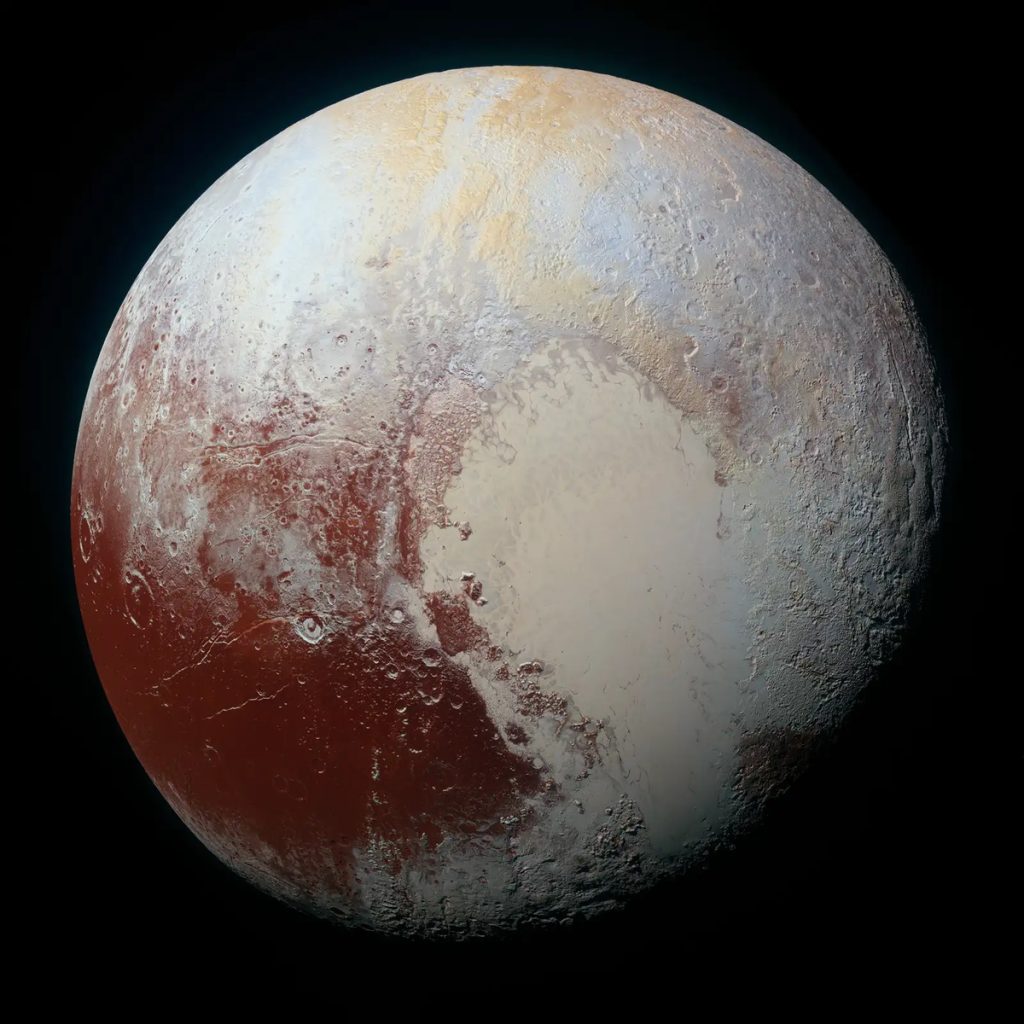 High-resolution color-enhanced photo of Pluto (Source: NASA/JHUAPL/SwRI)
When I come to think about it, I've been fortunate enough to have had at least peripheral contact with some of our space-related activities. Before it set off on its voyage to Mars, for example, I got to see the Curiosity rover in the flesh while visiting the Jet Propulsion Laboratory (JPL) in Pasadena, California to give a presentation on radiation effects in semiconductor materials and components. Sometime later, I got to chat with the guys who designed the multispectral image sensor used in the New Horizons camera to take the images of Pluto. Also, as I wrote in My Astronaut Training for Mars: "In anticipation of Season 2 of the Mars TV series, which premiers on Monday, Nov. 12 at 9:00 p.m. ET, the folks at National Geographic invited me to attend a two-day astronaut training event at the U.S. Space & Rocket Center in Huntsville, Alabama."
Over the years, I've tried to keep in touch with any discoveries and technologies that may one day turn us into a truly spacefaring species. For example, the lava tubes on the Moon and Mars that are large enough to accommodate an entire base, along with the various sources of water detected on the Moon.
To be honest, however, as the decades slipped through our metaphorical fingers, I was starting to fear we had dropped the ball. Even when the Artemis program was announced—with its promise of a space station orbiting the Moon and a permanent base on the Moon—I had niggling doubts this would ever come to fruition. Now, following the fantastic success of the uncrewed Moon-orbiting Artemis 1 mission, which took place just a few months ago as I pen these words, I'm finally daring to hope that we truly are going back into space, first to the Moon, and then on to Mars, the asteroid belt, and the moons of Jupiter.
So, what prompted my current cogitations and considerations of us becoming a spacefaring species? I'm glad you asked. In fact, I was just chatting with Jim McElroy, who is VP of Sales and Marketing (but we won't hold that against him), and Jay Thomas, who is Director of Field Development, at LDRA. Established in 1975, the folks at LDRA specialize in developing software tools that automate code analysis and software testing for safety-, mission-, security-, and business-critical markets, including aerospace, defense, medical, industrial, rail transportation, and automotive.
LDRA's tools are certified for use in safety-related software development according to IEC 61508, EN 50128, ISO 26262, IEC 62304, and IEC 60880. Furthermore, the folks at LDRA are active participants in a superfluity of safety-related standards such as DO-178C, MISRA C/C++, CERT, and ISO 26262 (they also offer MISRA C Training Courses).
One of the things we talked about was the problems associated with the verification of multicore applications. In fact, LDRA recently announced the enhanced CAST-32A & A(M)C 20-193 validation capabilities of its tool suite for safety-critical, multi-core processor (MCP) applications. These innovative features cover the entire software development lifecycle and provide a robust certification framework in support of DO-178C ("Software Considerations for Airborne Systems and Equipment Certification"). LDRA's compliance package for these critical applications is illustrated below (I was particularly interested in the "Automated Industry Standard Compliance Reports" because the automatic generation of these little scamps is going to save vast amounts of time and make a lot of users very happy indeed).
LDRA's compliance package for critical multicore applications (Source: LDRA)
Next, we talked about the latest and greatest MISRA C:2023 standard. The idea behind MISRA C is to restrict the use of the C programming language to a safety- and security-critical subset. This subset is what's used in virtually all critical embedded industries from autonomous automobiles to nuclear power stations.
LDRA has been involved in the MISRA C standard since its inception. The problem is that the standard has been constantly evolving with various additions (to accommodate enhancements in the language) along with amendments, corrections, and clarifications. All these aspects have been gathered into one cohesive whole in the form of MISRA C:2003 (3rd Edition, 2nd Revision), which was formally introduced at the Embedded World Conference and Exhibition in March 2023.
Yes, of course LDRA has added the latest MISRA C:2023 guidelines to the static code analysis and reporting capabilities of its LDRA tool suite. With support for all versions of the MISRA guidelines, the LDRA tool suite employs static analysis to identify areas of non-conformant code to aid documentation and modification, it includes extensive reports and graphical displays to enhance understanding of the source code in line with MISRA guidelines, and it facilitates structural coverage analysis to ensure developers can measure and maintain the amount of tested code, as recommended by the MISRA guidelines.
LDRA MISRA C:2023 Code Suite (Source: LDRA)
Last, but certainly not least, is the fact that the LDRA Tool Suite was used to support the Artemis 1 mission by providing extensive verification and validation of the Orion Multi-Purpose Crew Vehicle (MPCV) mission software. In future missions, the Orion spacecraft will serve as the exploration vehicle that will carry Artemis crews on their missions to explore deep space, including the Moon and Mars.
As Jay told me, it's not sufficient to rely on people (no matter how good they are); instead, it's important to employ appropriate tools and establish applicable processes, so if anyone makes a mistake, you've got a way to catch it, mitigate it, and solve it.
Jay says Artemis is an amazing project, not least that many of the systems are being built from scratch, which increases the complexity of pulling them together and integrating them. As part of this, LDRA has been endorsed by NASA as the official verification tool that was employed by many of the vendors to perform code review, code coverage, and unit testing to ensure their systems worked as planned. LDRA's tools were used to verify and validate everything from the booster to the control systems and environmental systems, and it was largely due to all this verification and validation that the Artemis 1 mission performed so spectacularly.
The simple fact that I know people that have something tangible to do with the Artemis program will make watching future launches and missions all the more exciting. I only wish I could be there orbiting and landing on the moon myself. How about you? Would you jump at the chance to go into space if such an opportunity were to come your way?