I've just been playing with one of the new VL53L5CX Time-of-Flight 8×8 Multizone Ranging Sensors from STMicroelectronics. On the bright side (no pun intended), this involved a laser beam bouncing all around my office. Sad to relate, however, I couldn't see it because it was outside the range of human vision.
I tell you — every day I'm introduced to some amazing technology like this new sensor, which makes me cogitate and ruminate on how fast and how far things have progressed since I started out. In fact, I was in an email conversation just the other day with someone from the UK who used to read Practical Wireless magazine deep in the mists of time now known as the 1970s. Let's call him Kevin (because that's his name).
Kevin mentioned a monthly column called Take 20, which was billed as "A series of simple transistor projects, each using less than twenty components and costing less than twenty shillings to build" (this was when there used to be 20 shillings in an English pound, which was prior to 1971 when the currency changed). In a desperate attempt to keep me out of their hair, my parents had taken out subscriptions to both Practical Electronics and Practical Wireless for me when I was about 12 years old. In fact, here's a link to a PDF of the May 1970 issue of Practical Wireless, which came out around the time of my 13th birthday.
As an aside, this issue is one of thousands from many different publications that are available for free download from the World Radio History website (see my World Radio History column). 
As soon as each issue arrived, I hopped on the next bus and raced down to the nearest electronics store, which was called Bardwells, to purchase the parts for that month's Take 20 project. At that time, Bardwells was located on the corner of a little backstreet behind the Abbeydale Cinema (when it was opened by the Lord Mayor of Sheffield on 20 December 1920, this edifice, which was officially called the "Abbeydale Picture House" at that time, was the largest and most luxurious cinema in Sheffield, and it was often referred to as the "Picture Palace" because of its luxurious cream and gold color scheme and its dark mahogany seats trimmed with green velvet). Later, Bardwells moved to Abbeydale Road where they remained until a couple of years ago when they turned out the lights and closed their doors for the last time.
Kevin and I happily reminisced about the fact that so few of the projects we built in those days of yore actually worked. In my case, I'm sure this was due to things like bad solder joints or wiring up components the wrong way round (I was good with the resistors) or not cutting the tracks on the stripboard in the right places. But it was learning from those early failures that helped forge me into the man I am today.
The point is that, at that time, I considered something like a two-transistor radio using BC169C bipolar junction transistors (BJTs) to be the most amazing thing ever (this was the topic of the Take 20 project in the aforementioned May 1970 issue of Practical Wireless). So, you can only imagine my delight these days when I get to play with something like STMicro's new VL53L5CX Time-of-Flight 8×8 Multizone Ranging Sensor.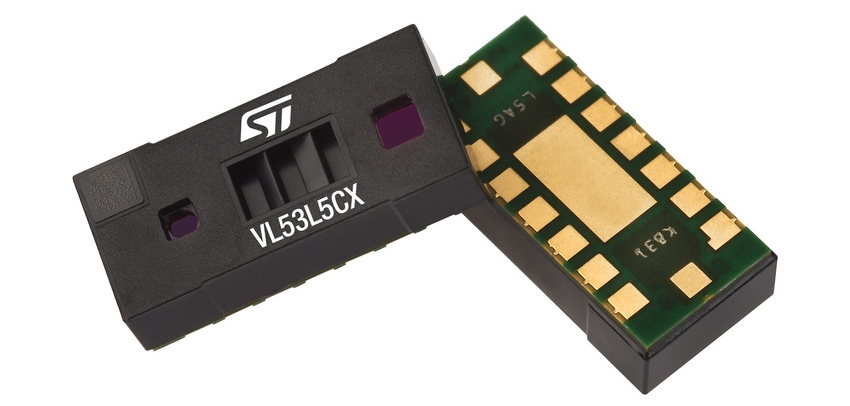 VL53L5CX Time-of-Flight 8×8 Multizone Ranging Sensor
(Image source: STMicroelectronics)
At only 6.4 x 3.0 x 1.5 mm — and powered using a single 3.3 V or 2.8 V supply — this little scamp is significantly smaller than the size of a Jellybean (dang, now I feel like eating some Jellybeans). The smaller aperture on the left houses a 940 nm invisible light vertical cavity surface emitting laser (VCSEL) and integrated analog driver. The reason this is invisible is — as discussed in my Evolution of Color Vision paper — a typical human eye will respond to wavelengths from about 380 to about 750 nanometers.
An integrated lens causes the laser light to spread out in a three-dimensional 45-degree cone. The larger aperture on the right holds a receiving array of single photon avalanche diodes (SPADs) that perceives the reflected light as an array of either 4×4 or 8×8 zones as you wish. Meanwhile, the washboard-type structure in the middle mitigates any misleading reflections caused by whatever protective plastic or glass cover you resolve to employ.
Underneath the "washboard" is an ultra-low-power microcontroller that gathers and preprocesses the data from the array and uploads everything to a host processor via an I2C bus whenever it is requested to do so.
With a range of up to 4 meters, this little beauty supports up to a 60 Hz frame rate if you select a 4×4 array, or up to a 15 Hz frame rate if you opt for an 8×8 array. As I said at the beginning of this column, and as you can see in this video, I've just been playing with one of these little rascals here in my office.
In this case, I was simply using ST's default test application to ensure that everything was working as planned. There are so many potential applications for this type of sensor that the mind boggles. For example, consider the following as listed on the VL53L5CX Data Sheet:
Scene understanding. Multizone and multi-object distance detection enables 3D room mapping and obstacle detection for robotics applications.

Wide FoV and multizone scanning allows content management (load in trucks, tanks, waste bins).

Gesture recognition.

Liquid level control.

Keystone correction for video projectors.

Laser assisted autofocus (LAF). Enhances the camera AF system speed and robustness especially in difficult low light or low contrast scenes.

Augmented reality/virtual reality (AR/VR) enhancement. Dual camera stereoscopy and 3D depth assistance thanks to multizone distance measurement.

Smart buildings and smart lighting (user detection to wake up devices).

IoT (user and object detection).

Video focus tracking. 60 Hz ranging allows optimization of the continuous focus algorithm.
I've just been thinking about some of the projects I've created over the years, like my Prognostication Engine, my 12×12 Ping Pong Ball Array, and my Countdown Timer. All of these would be enhanced by the ability to detect people in close proximity and to respond to appropriate gestures.
Do you remember my two SMAD-based pseudo robot heads? (If not, see Don't Mess with My Head!) Well, I'm currently in the process of equipping these little scallywags with servo-based motion, and I now think they can also expect to be augmented with VL53L5CX-based sensing capabilities in the not-so-distant future.
For other makers who are interested in this sort of thing, the folks at STMicro tell me that they are working with the guys and gals at Adafruit and the chaps and chapesses at SparkFun. Both of those entities will be bringing VL53L5CX-based breakout boards (BOBs) — and accompanying training materials and example code — to the party in the not-so-distant future. How about you? Can you think of any projects you are working on that could be enhanced by the addition of a VL53L5CX with its multi-ranging capabilities?