Lattice Semiconductor is moving upscale with its new mid-range Avant FPGA platform. After spending the last several years taking low-end market share from its bigger FPGA competitors, essentially while they weren't looking, Lattice has decided that a similar opportunity awaits in mid-range programmable-logic parts. I think the jury is out there. We'll need to wait to see if Lattice's perception is correct. Meanwhile, system designers can welcome a new player in the mid-range market, which Lattice is defining as FPGAs with as many as 100K to 500K logic elements. According to Lattice, programmable-logic devices based on the mid-range Avant FPGA platform will compete directly against Intel Arria and AMD/Xilinx Kintex mid-range FPGAs.
Understand that Lattice plans to use its new Avant platform, which is based on TSMC's 16nm FinFET process technology, to generate several mid-range FPGA families. Lattice's Nexus platform, which the company introduced three years ago, is based on Samsung's 28nm FD-SOI process. You can expect that the FPGAs developed using the Avant platform will be faster, have higher capacity, and will sport more features than FPGAs based on the company's earlier Nexus platform.
Here are a few of the salient features that Lattice announced for the mid-range Avant FPGA platform:
As many as 500K programmable logic elements, based on 4-input LUTs. That's 5x more logic cell capacity than was possible with the company's Nexus earlier platform.

18×18-bit, DSP blocks, fracturable into two or four smaller units

25 Gbps SerDes ports

Hardened PCIe Gen4 x8 support

Built-in support for SDRAMs with a hardened DDR memory interfaces including DDR4 and DDR5

Hardened, post-quantum cryptographic security engine
Lattice has provided some performance numbers relative to the competition; however, the company chose to compare its new mid-range Avant FPGAs with members of the Intel Arria V and AMD/Xilinx Kintex-7 FPGAs. Of course, since this is Lattice's announcement, Avant is faster and consumes less power than those competing devices, which are indeed mid-range devices in terms of logic cell capacity. However, Altera and Xilinx announced their Arria V and Kintex-7 FPGA families in 2011 – more than a decade ago – so you sort of know which parts are going to win in these comparisons even before you see the numbers. It would be much better, much more informative, and more appropriate to see the Avant FPGAs benchmarked against newer versions of AMD/Xilinx's and Intel's competing mid-range FPGAs such as the Arria 10, Artix UltraScale+, and Kintex UltraScale+ FPGAs.
It's important to understand that Lattice's Avant is an FPGA platform, not a product family, in the same way that Lattice's Nexus platform isn't an FPGA family. Lattice's FPGA families based on its Nexus platform include the Certus-NX, CertusPro-NX, CrossLink-NX, Mach-NX, and MachXO5-NX FPGA families. The Certus-NX and CertusPro-NX families have maximum logic cell counts of 39K and 100K respectively and are general-purpose FPGAs. The CrossLink-NX family is specifically adapted for video applications and incorporates video-centric interfaces such as MIPI D-PHY. The Mach-NX and MachXO5-NX families have smaller logic cell counts of 8.4K and 25K, respectively, and they incorporate on-chip flash memory for storing the FPGAs' configuration data. For many low-end applications, eliminating the Flash memory configuration chip is a real advantage, so these Mach devices have a nice little design niche.
Lattice Semiconductor plans to create the same sort of family proliferation from the Avant platform, and the company announced the first Avant-based FPGA family, the Avant-E FPGA family, along with the platform. The announcement included three members of the Avant-E FPGA family: the 200E, the 300E, and the 500E with 196K, 306K, and 477K logic elements, respectively. These devices incorporate 700, 1120, and 1800 DSP blocks, respectively, in addition to the logic cells. Like the company's CrossLink-NX family, the Avant-E FPGA family supports the MIPI D-PHY interface, but none of the Avant-E FPGAs have high-speed SerDes transceivers. These three Avant-E family members have as much as 36 Mbits of on-chip SRAM and support external DDR4 and LPDDR4 SDRAM with integrated memory controllers.
Lattice's market research into mid-range FPGAs uncovered a need for small-footprint devices, so the Avant-E 200E FPGA is available in an 11mm x 9mm, small-form-factor package. The larger members of the Avant-E FPGA family are available in 12mm x 12mm and 15mm x 13mm packages. Larger packages with more I/O pins are also offered. Lattice is already manufacturing the largest member of the Avant-E FPGA family, the 500E, and has been providing these devices on evaluation boards for early-access customers for several months. The evaluation board is now broadly available. Here's a photo of that board: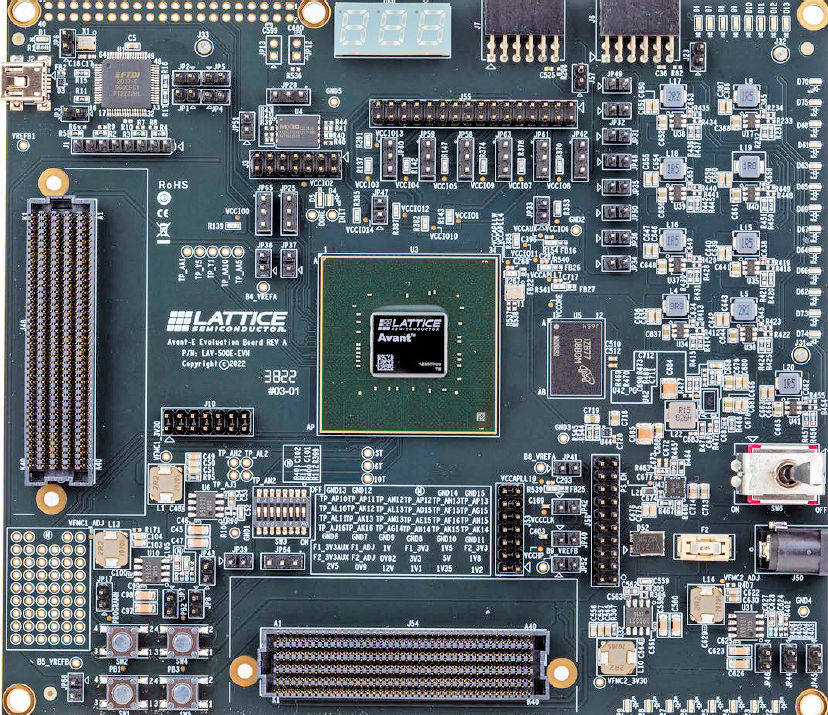 Avant-E FPGA Evaluation Board 
It's no longer possible to simply release parts into the FPGA market and expect them to win sockets. The winning combination now requires development tool support, a broad IP library, reference designs, and software stacks. Lattice has already upgraded its Propel design environment and existing development tools to support the Avant-E FPGA family. Existing Lattice customers should therefore find the development tools for devices based on the Avant platform to be very familiar.
Because the Avant-E FPGAs now have five times the number of available logic elements to work with, large IP blocks become all that much more important. The company says it has signed a long and growing list of IP suppliers to support its Avant-E FPGAs.
One thing seems glaringly absent in the Avant-E FPGA family. None of these devices incorporate a hardened microprocessor subsystem. Both Intel and AMD/Xilinx have offered FPGAs with hardened microprocessor subsystems for a decade, for one simple reason: to a first-order approximation, 100 percent of all systems based on FPGAs also incorporate one or more microprocessors. If the FPGA does not incorporate a microprocessor, then it must be added externally. In the past, the microprocessor cores of choice have all been based on Arm cores, with the exception of the PowerPC processor on Xilinx's ill-fated Virtex-II Pro family, but these days, cores based on the RISC-V ISA also look like a very good choice because of that ISA's global momentum and community support.
I specifically asked Lattice about the absence of a processor core in the list of planned features for FPGAs based on the Avant platform. The company's response was that customers can use some of the logic cells in the FPGA fabric to add a microprocessor core of their choosing. Of course, that is a true statement. Lattice has two RISC-V processor cores in its IP library. Although both Intel and AMD/Xilinx offer hardened microprocessor subsystems on many of their devices, both companies continue to offer soft-core RISC processor IP – Nios and MicroBlaze respectively – and many designs do employ these soft cores. Intel recently added the Nios-V soft core to its IP library, which is based on the RISC-V ISA.
So technically, Lattice is correct. Customers that want a processor on their FPGA can add one using a soft core. However, doing so is a colossal waste of logic cells, in my opinion. A soft processor core consumes a lot more silicon and runs much slower than a hardened microprocessor core on the same FPGA. If using a microprocessor or two were a rarity for FPGA-based systems, Lattice's stance would make sense to me. Offering a pair of hardened, on-chip microprocessor cores that can operate in lockstep for high-reliability and safety-related applications makes more sense to me. However, it's the market that will ultimately deliver judgment on this facet of Lattice's Avant platform, not my opinion.
Certainly, this omission is not a fatal step on Lattice's part. Nothing prevents the company from adding a future family of Avant-based FPGAs with hardened processor cores. The slide deck that the company distributed with its announcement indicates plans to introduce two more Avant-based FPGA families in 2023 and several more families in subsequent years. If the demand is there, and I expect that it is, I am certain that Lattice will be adding hardened processor cores to at least one future Avant FPGA family. Avant-P, perhaps?
In addition, Lattice has developed several major application-specific software stacks and solutions for its prior FPGA families, which the company is extending to FPGA families based on the Avant platform. These software offerings include:
Lattice SensAI for FPGA-based Machine Learning and Artificial Intelligence applications

Lattice Sentry for developing NIST SP800-193-compliant, FPGA-based Platform Firmware Resiliency (PFR) Roots of Trust

Lattice mVision for embedded vision applications including machine vision, robotics, ADAS, video surveillance, and drones

Lattice Automate for industrial automation applications including CNC, robotics, scalable multi-channel motor control with predictive maintenance, real-time industrial networking, and local-to-cloud networking

Lattice ORAN for 5G-ORAN application acceleration using FPGAs
It's great to welcome another worthy gladiator to the mid-range FPGA arena. Today's mid-range FPGAs are more capable than high-end devices from two decades past. It's a hotly contested arena because of the advantageous price and performance of competing devices. Competition hones the skills of all players and Lattice's entry into this arena with the mid-range Avant platform is sure to capture the attention of prospective customers. It's also certain to get Intel's and AMD/Xilinx's attention. Let the games begin.