Perhaps you recognize the name TomTom. It's a Dutch company, founded in 1991. The company's original name was Palmtop Software, and the company specialized in software for handheld computers, also known as Personal Digital Assistants (PDAs), like the Psion family and Windows CE devices. As that market dwindled, the company pivoted to location technology based on GPS. Adopting a new name and mission, TomTom introduced its first maps for PDAs in 2002 and a portable GPS navigation unit, the TomTom Go, in 2004. I bought a later GPS model, a TomTom One, just a few years later. It was an excellent GPS for its day. I liked it.
The market for standalone GPS units has dwindled, possibly for two main reasons. First, carmakers started to build GPS units into their cars' integrated infotainment units. Second, our ever present smartphones developed excellent navigation skills, thanks to Google Maps, Apple Maps (well, maybe not so much), and the phone apps that use these maps. 
The days of dedicated, handheld GPS units are clearly numbered, although you can still purchase these devices if the spirit moves you. Even TomTom still sells handheld GPS units. However, the shrinking market for GPS units has caused TomTom to burrow deeper into the world of electronic maps, selling perpetually updated map services to other companies that offer navigation aids to end users.
On November 30, TomTom announced another major pivot for the company and unveiled IndiGO, an open, integrated digital cockpit platform for carmakers. With standalone hardware GPS units becoming a shrinking market, TomTom decided to develop an entire user interface and platform for cars that incorporates navigation and everything else in the user interface pantheon. It's an interesting direction for the company to take, given its existing, close association with the automotive industry. TomTom IndiGO is based on the Android OS, but TomTom has massaged Android specifically for the transportation industry.
The TomTom IndiGO software platform unifies passenger and driver displays through a common user interface that provides access to climate controls, the infotainment system (audio and video), vehicle systems settings like seat heaters, ADAS features, and other apps and services. The IndiGO user interface encompasses voice, touch screens, and hard controls including knobs, hard buttons, and other controls built into the vehicle's steering wheel.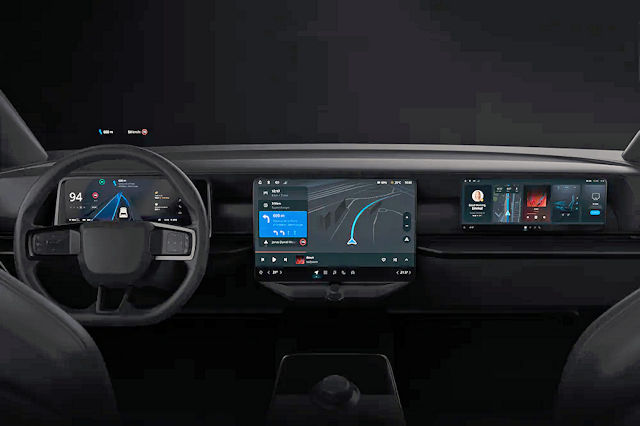 TomTom's vision for an IndiGO-based dashboard
TomTom has also recognized that in today's environment of the perpetual "What's new?" question, IndiGO needs to continuously connect to the cloud for software updates and upgrades, even after systems are fielded in cars that are driving around in, er, the field. Continuous connection also permits TomTom's Navigation for Automotive and Electric Vehicle (EV) technology suite to provide fast, up-to-date routing, search, and map services, including precise range and routing information so that EV drivers can locate the nearest charging station before their batteries go flat.
If you simply must have the marketing wank, TomTom's press release claims: "TomTom IndiGO offers a holistic user experience, performing as an extension of the driver's digital life." Um, right.
There's a very broad diversity of automotive user interfaces across OEM brands and vehicle types, and TomTom clearly has realized that no one software vendor can churn out the number of different look-and-feel scenarios required to cover everything from economy cars to luxury cars, SUVs, pickup trucks (Utes if you live in Australia), EVs, trucks, and buses for all of the world's transportation OEMs. So the company is building an ecosystem of OEMs, app developers, and service providers for IndiGO. In effect, TomTom has created an OS, platform, and ecosystem that looks a lot like Microsoft Windows in spirit, but it's for vehicles instead of PCs. IndiGO is sort of what Windows CE could have and should have been, but most definitely is not.
I have to admit, this all looks pretty good to me at the 50,000-foot level. Carmakers certainly can use a comprehensive, easy-to-use, open platform for developing the glass automobile cockpits of the future. I know from experience that these user interfaces tend to age rapidly. My 2014.5 Toyota Camry's infotainment and navigation console was updated once, in 2015 or so, but it's been static for the last half decade, and its age shows. 
Let's face it, it's a clunker these days. The entire system is slow to respond, and its voice command capability is laughable, although it was very cool when I bought the car. Speech recognition was never very accurate. Today, when I try to get the voice command function to dial a number on my phone, I end up playing twenty questions with the car and it eventually messes up. When that happens, when the car misinterprets something I've said, usually in a most outrageous manner, my wife, sitting in the copilot seat, bursts into gales of laughter, and frankly, it's embarrassing.
Contrast that experience with TomTom's rollout demo, which featured Amazon's incredibly capable Alexa as the voice-recognition engine. I've got Alexa in my kitchen, and she's constantly getting better at understanding voice requests, thanks to her cloud connection. Not so the old, sad iron giant robot in my Camry. It hasn't been updated since 2015. (Alexa was prominently featured in TomTom's video demo and included in the list of IndiGO launch partners: Access Company, Amazon Alexa, ART S.p.A., Bosch, Cerence, Cinemo, Digital Charging Solutions GmbH, Faurecia Aptoide Automotive, HARMAN, iHeartRadio, Intellias, Microsoft, and Rightware.)
So everything ought to look just peachy in the IndiGO land of easy, fast development. In fact, the prose in TomTom's press release is perfectly breathless:
"TomTom IndiGO is a foundation for carmakers to create immersive, branded experiences that will continue to surprise and delight drivers, at less risk, cost, and time-to-market than alternative solutions. IndiGO provides a framework for carmaker's software engineers, user experience and brand teams, as well as software development partners to work together harmoniously."
However, please pardon me if I am just a bit cynical. We've heard all of this before. Complex and reliable software development just isn't fast, delightful, or harmonious. Especially not for open systems that are continuously updated. 
I'll give two extremely unfair examples just to make my point. First, my TomTom One GPS unit is now effectively a paperweight. TomTom stopped updating maps for its older GPS units like my TomTom One back in 2018. Here's the explanation from the TomTom Web site:
""Your maps will become out-of-date and as such navigation will be less accurate," the Dutch firm told customers. "It has become clear that some of our older generation navigation devices do not have sufficient resources to run the newest maps and software."
With that pair of sentences, TomTom deftly obsoleted about 60 of its GPS models, including my TomTom One. My TomTom One maps have not been updated for more than four years, but people continue to build new roads. They just don't exist in my TomTom One's version of the universe. 
TomTom offered me a buying credit towards purchasing one of their newer models, but it was a sham offer. Even with that credit, the standalone TomTom GPS units were more expensive than competing products, so I bought a Garmin GPS with a lifetime map subscription for far less money than TomTom's offered deal. I update the Garmin's maps annually, for free. Oh, did I mention that TomTom charges for map updates?
Sure, hardware does become outdated. It's to be expected, and that's sort of my point. Software tends to outgrow any hardware system. That's been true for many decades. It's like the fourth law of software thermodynamics, or something. It's true for Windows PCs; it's true for my TomTom One; and it's quite likely to be true in the severely cost-constrained world of automotive electronics used to run IndiGO. 
With all sorts of OEMs and app developers within the IndiGO ecosystem competitively upgrading their applications over the air, I expect that it won't be long before the aggregated system of applications outgrows the limited memory available inside of a car's dashboard. After all, what's to stop that from happening? 
What are you supposed to do then? Sell your car because its user interface can no longer be supported? Will TomTom offer you a discount on a new car because your IndiGO hardware is obsolete and no longer supported?
Second, I will point out that TomTom's slick IndiGO video event on November 30 did not go off without a hitch. On my PC, with my ISP, the video froze every sixty seconds or so, for five or ten seconds at a time, during the entire hour-long presentation. What a frustrating user experience! Imagine a glass cockpit that freezes every minute or so. Sorry officer. I don't know how fast I was going. My speedometer freezes every 30 seconds.
Now the video freezes are not IndiGO's fault, and that's not my point. I suspect it's the fault of GoToWebinar, the video provider that TomTom selected as its partner for this announcement. So what is my point here? Things are not always harmonious in the world of partner ecosystems, distributed development, and shared responsibility. Expect glitches. Finger pointing happens. When you depend on a partner scrum, your end product can be only as strong as your weakest link, no matter what song book everyone's singing from.