Electronic distributors are the Rodney Dangerfields of the electronics industry. CEOs heading component vendors view them mostly as a necessary evil. Worst case, they're viewed as middlemen that erode profit. Best case, they're a partner that requires a lot of support. Engineers have, in the past, also viewed distributors as a necessary evil. You turn to them when the component vendor won't give you the time of day because your company's too small to be dealt with directly. These are mean-spirited attitudes.
In reality, most of us have to deal with distributors as needed partners in our electronic journeys, though we might tend to forget that fact. A new 172-page publication by the ECIA (Electronic Components Industry Association) titled "Electronic Component Industry Evolution: 100 Years of the Authorized Channel" contains many stories of distributors who are very familiar to me, as well as telling electronic component distribution's overall story. I've cherry-picked just a few of the stories from this publication that resonated with me and will be telling these stories in a personalized fashion, incorporating some of my own experiences, in a 3-part article, starting with this one.
I never gave much thought to why electronic distributors appeared, but the caption under the first photo in the ECIA history suddenly crystallized things for me. The caption said:
"The vacuum tube was the technology that spurred the radio industry and the channel."
Well, of course. Radio was the first mass market for electronic components, so naturally, there were people who decided to make a living selling products into that growing market. Early enthusiasts needed to build their radios from scratch, and they needed parts. As the ECIA book says:
"Some of today's heavy hitters began by selling surplus radio parts on New York's now-legendary 'Radio Row.' A couple of others were seeded in the oil fields of Texas. Still others sprung from early research labs in California. But only one is the oldest: Sager Electronics.
"Sager Electronics began in 1887 as a single storefront in Boston that serviced the growing interest in radio technology. Under the vision and leadership of Joe Sager, the company rapidly established a statewide distribution system for home radios and related components. Despite the onset of the Great Depression, Sager continued to grow by bringing new electrical products to Massachusetts' consumers."
I was aware of Sager but did not know they're considered the first distributor in the business. And 1887 was certainly an early year to be involved in radio. Just for reference, Guglielmo Giovanni Maria Marconi was born in 1874, and he had not yet started to develop radio in 1887. He was only 13 years old then. Most radio histories would say that the birth of radio took place in 1901, when Marconi managed to get one letter, the letter "S," telegraphed 2200 miles across the Atlantic Ocean.
The next player to appear in the ECIA's publication is Avnet:
"Avnet's history is intrinsically linked with the ECIA's and rooted in what was once the famous New York City Radio Row, where 33-year-old Russian immigrant Charles Avnet began buying and selling surplus radio parts… in 1921, just as the first component stores opened for business on New York City's Radio Row. Rapid advances in technology soon made radios commonplace.
"As radio manufacturing grew, so did the role of parts distributors. From a small store in Manhattan, Charles sold about $85,000 in components his first year. In 1929, Galvin Manufacturing Co. introduced the first practical car radio, the Motorola, short for 'motor Victrola.' Charles capitalized on this development and added automobile antenna assembly and kits to his repertoire, effectively moving from a standard distributor to a value-added distributor by putting parts together for sale to consumers.
"When the Great Depression hit in October 1929, Charles, like many others, found himself suddenly in debt. In what would prove an astute decision, he shifted his focus from retailing to wholesaling."
Now I've certainly heard of Radio Row in New York City, but I never visited it. It's long gone now. Still, I've wondered where it was. Fortunately, as soon as I'd formed the question in my mind, the ECIA's book gave me the answer:
"The popularity of radio drove consumer demand for components and "Radio Row" was established in the 1920s. "Radio Row" was the nickname for the New York district that specialized in the sale of radio equipment and parts. "City Radio," which opened in 1921, was the first storefront. Radio Jobbers — the term that was commonly used for resellers — would carry radios and replacement parts including tubes, condensers, resistors, switches, wire, and other components. As radio became more and more popular through the years, users flocked to Radio Row to upgrade their devices.
"Radio Row was home to an estimated 40-50 very busy stores. By the late 1960s, Radio Row had grown and housed around 300 component resellers. Its address was the Lower West Side of Manhattan on Cortlandt Street. The street was located near the Wall Street financial district where employees had money to spend on radios and parts."
Now I'm not an expert on New York City so I was not at all clear where Radio Row was from this text. Again, the ECIA book provided the answer with a map: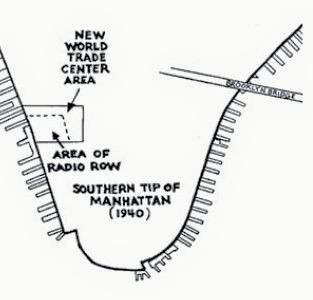 Developers built the World Trade Center twin towers on top of Radio Row. Construction on the twin towers started in 1966. That's the year that Radio Row disappeared. As the ECIA book notes, Radio Row thrived for nearly four decades.
There are many stories about distributors in the ECIA book. Newark Electronics was based in Chicago but named for a city in New Jersey. I didn't know why until I read this book. It's because the first radio transmitter in the US was located in Newark.
Many distributors that I've worked with – and that you've probably worked with – have put their origin stories into this book. There are too many stories to include here, but I want to be sure to summarize a few of them.
One story is about Allied Electronics. I am certain this is the first electronic component distributor I ever ordered from, in 1971, during my freshman year of college. I ordered a few items, and I don't remember most of them. But the one thing I do remember ordering was a "professional" Antex Model C, 15-watt soldering iron to replace my Radio Shack wood burner. It was bright yellow, cost about $6, and lasted for decades. However, it was too weak to do any serious soldering in those pre-surface-mount days.
Here's the product listing for this soldering iron from the 1970 Allied Electronic catalog:
This clip from a 1970 Allied Electronics catalog page illustrates something really important with respect to engineering education. A significant part of my early education in electronics came from spending hours poring over the pages of distributor's catalogs like the one from Allied Electronics. These annual catalogs were essentially dictionaries of the most commonly used electronic components, tools, and associated products. Through these catalogs, I quickly learned what was in use by engineers working in the industry.
The components and tools listed in these catalogs are the nouns of the electronic design vocabulary, and the things we do to these components – solder, lay down, connect, attach, plug, install, measure, adjust – are the verbs. Using these industry-specific nouns and verbs, we write the sentences, paragraphs, and pages our system designs.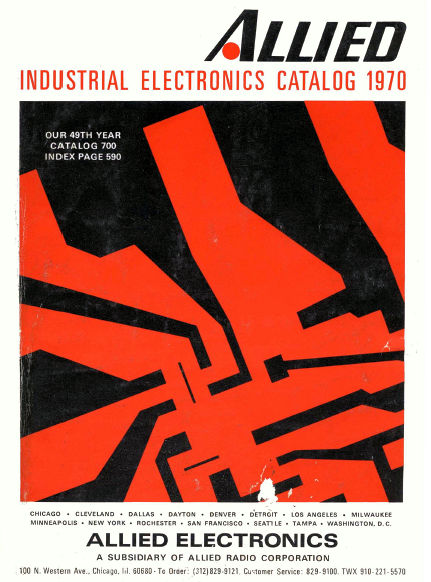 So, just how did Allied Electronics start? It's a great story. Here's a quote from the ECIA book, written by founder A.D. Davis, describing how he started Allied Radio in 1928:
"I was not a visionary. I was taken into a room in Detroit that was about 100 feet square and was filled with boxes on top of boxes from floor to ceiling. He waved at them and said, 'These are all radio parts. I have no use for them and I need the space. I would like to sell them to anyone who comes along.' I said, 'I don't know the first thing about their value.' He said 'How much do you have in your pocket?' 'Well that's a personal question,' I said. 'I usually carry a lot of money.' 'You have as much as $500?' he asked. I said 'Yeah, I have that much.' 'You give me $500 and the whole room is yours,' he concluded.
"Well it took me three or four trailer loads to get the stuff out of there. I moved it to Chicago, opened up a joint and went over to State Street, which was then called Radio Row. There, I talked to several men.  I'd say 'Look, I've got a bunch of radio parts here. I don't know what their value is; I don't know if they are worth anything; but I'll make a deal with you. Come over and look at them, pick out what you want, and make me an offer.' They were all happy to do so.
The first one that came over offered me a dime for something, and I said I would take 20 cents. He said 'sold.' He bought enough to pay for the whole deal, plus transportation and everything else."
These are some of the stories of Radio Row distributors that opened their doors before World War II, during the early days of radio. In part 2 of this article, I'll discuss the stories of more recent entrants in the distribution game, also taken from the ECIA book.
Note: In reading what I've written in this article, I realized that this story has a decidedly American flavor. The ECIA is an American industry association, so its book and my experience with distributors are completely American. In no way do I wish to diminish or discount the work, histories, or contributions of distributors in other countries. I simply don't know those stories.