Just in time for Black Friday, here's a holiday gift idea for that hard-to-please nerd on your list: Phantom, Paco Rabanne's new fragrance for men, has been electronified. Now you can have just what was missing in men's colognes, oops, I mean Eau de Toilette. Interactivity. Not your usual, plain vanilla, QR code sort of interactivity, mind you. Full electronic interactivity between the fragrance bottle and your smartphone.
Phantom Eau de Toilette comes in a bottle that looks like a little chrome robot. It's very cute. Take a squiz: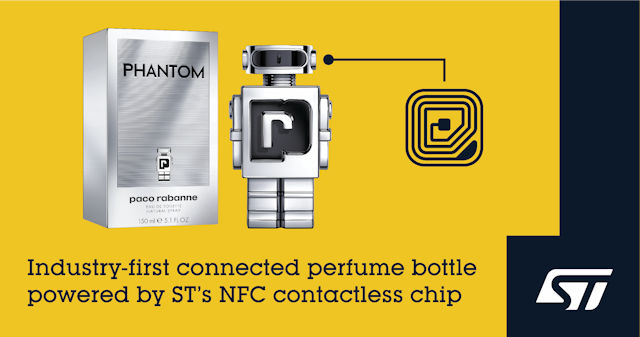 I guess that's the Paco Rabanne Robot in the image. As you can tell from the image, the perfume bottle's robot head contains an NFC chip made by STMicroelectronics. It's also the plunger for the spray bottle. ST and Paco Rabanne worked with tag inlay-specialist Paragon ID and VPI (FaiveleyPlastBeauty), an expert in injection molding, to develop a practical way to encapsulate the ST NFC chip into the bottle cap.
The manufacturing partners embedded a general-purpose, Type 5 NFC tag chip along with a small, custom antenna into the perfume bottle's tiny cap and still got it to work beneath the cap's shiny chrome-plated finish. Use of NFC eliminates the need for a battery in the cap, resulting in long product life. That's exactly what you're looking for in a cologne bottle, right?
Given the choice between discussing the "how"s and "why"s of the NFC inclusion or discussing the perfume, I've got to choose the perfume first. Here's why. Fragrantica.com's description of Paco Rabanne's Phantom scent says it's:
"…a woody aromatic fragrance for men… This is a new fragrance… launched in 2021… created by Anne Flipo, Dominique Ropion, Loc Dong, and Juliette Karagueuzoglou. Top notes are Lavender, Lemon Zest and Amalfi Lemon; middle notes are Lavender, Apple, Smoke, Earthy Notes and Patchouli; base notes are Vanilla, Lavender and Vetiver."
Paco Rabanne's online site adds this description of the fragrance:
"The essence of self-confidence, fueled by feel-good energies."
Oh man. That's way better than the sort of adjectives I usually use to describe tech products.
So, how much will a bottle of Phantom Eau de Toilette set you back? At Sephora, the online price is $75 for a 1.7 ounce (50 mL) spray bottle, as of the time I am writing this article in September. Once you run out, you can recharge the robot with the 6.7 ounce (100 mL) refill for only $130.
The refill is important, because the NFC chip resides in the robot's head. You don't want to throw the bottle away once it's empty, assuming you like the Eau de Toilette's "woody aromatic fragrance" and you want to maintain close ties with Paco Rabanne.
So just what does this NFC chip do? Yvon Gourdou, EMEA Application and Marketing Director, Microcontrollers and Digital ICs Group at STMicroelectronics, explains:
"Phantom's bottle brings together cutting-edge contemporary design, sustainability with a refill system, and user-friendly connected services enabled by the integration of our ST25TV NFC tag IC in a challenging environment."
Funny, I never thought of my bathroom countertop as a challenging environment, but I suppose it might be considered one.
Yes, you say, but what does this do? I'll let Fabien Leclercq, Packaging Development Manager from Paco Rabanne, explain:
"Innovative in the approach and futuristic in the fragrance and bottle appearance, Phantom brings a new dimension to users and a pathway to the digital universe, allowing them to meet their new Wingman. Our own luxury craftsmanship, combined with high-tech knowhow and expertise from STMicroelectronics brought our vision to reality."
Perhaps that's not as helpful as you might like. Perhaps you want a better explanation from a more technical point of view. Happy to oblige. Here's the skinny from ST's blog on this topic:
"The mechanism is straightforward. Users bring their phone to the bottle and a notification appears sending them to a URL. The container, shaped like a robot, thus becomes a gateway to the fragrance's world and services. At the moment, Paco Rabanne offers customers a playlist of songs that were at the top of the charts on a specific day of a particular month. For instance, customers can see all the trending songs on their birthday throughout the years. The company also provides an Instagram sticker in the shape of the robot for whimsical selfies."
I guess it's a brand affinity thing.
So just how does this work, from a technology perspective? I needed to go to ST's Web page for the ST25TV NFC tag chip to get a clearer, more technical understanding of the NFC chip:
"Near Field Communication (NFC) Type 5 tags and labels operate in the high-frequency (HF) 13.56 MHz range and comply with the NFC-V Technology specification from the NFC Forum. The data stored in these Type 5 tags and labels is transferred to NFC smartphones or professional NFC/RFID HF readers that support the NFC Forum standardized NFC Data Exchange Format (NDEF)…
"The ST25TV series offers tags with a 512-bit or 2-Kbit memory, including a contextual automatic NDEF messaging service. It allows the tag to respond with dynamically-generated content when triggered by the end user and his NFC mobile phone with a simple 'tap'. This technology is called Augmented NDEF."
So that's what the NFC tag does; it creates an interactive experience for the purchaser of the Phantom perfume using the purchaser's smartphone.
Isn't that what you always wanted? An interactive cologne bottle?
Now I know next to nothing about luxury brands. My Mennen Afta aftershave costs about three bucks a bottle and I've been using this brand for decades. So I fully recognize that I do not reside in Paco Rabanne's target market demographic. Not even close.
I also recognize that in the world of luxury goods, a new gimmick is a valid way of differentiating your product. After all, Paco Rabanne's Phantom is not the only woody aromatic fragrance for men for sale at department stores. However, for now, it's the only woody aromatic fragrance for men packaged in an interactive, chrome robot that allows Paco Rabanne to add "stickiness" to a cologne bottle.
That seems different to me.
Finally, I don't want to give you the idea that ST's NFC tag chip is just for luxury brands. Here are some applications noted in ST's blog:
"Often, companies integrating NFC into their product have business features in mind. Many use the technology to track inventories, prevent theft, or simplify customer support. However, [Paco Rabanne's Phantom,] the first connected fragrance, took a different approach by first focusing on world-building. The fashion brand went beyond the simple robot shape to create a gateway to online services. Hence, the Phantom case study is interesting because the NFC's integration first served the customers themselves."
Tag, you're it. What sort of applications come to your mind for ST's NFC tag chip?