It may seem counterintuitive, but 2020 was a very good year. Good if you were in the business of making and selling semiconductors, that is. After a depressing 2019, 2020 saw global sales of processors, memories, and miscellaneous chips of every description rise by a healthy 7.3%. That's good news! 
These numbers come from Gartner, the big market-research company, and they're still preliminary. But all indications are that the semi market has rebounded bigly since its poor showing the year before. Credit (blame?) goes largely to work-from-homers who bought new laptops, new phones, new monitors, and new consumer gadgets. 
Almost $450 billion changed hands in 2020 due to semiconductor sales, an increase of $30.7 billion, or 7.3%, compared to 2019. A big chunk of that upside was due to memory, not logic chips, as we'll see. 
As the table shows, Intel retained its top spot among the world's semiconductor makers, selling over $70 billion in chips during the last calendar year. That's about $2.5 billion more than the year before, for a 3% increase year-over-year. Note that these figures are all based on revenue – that is, money – not the number of components. If prices go up but unit volumes go down, that's a win in the business world.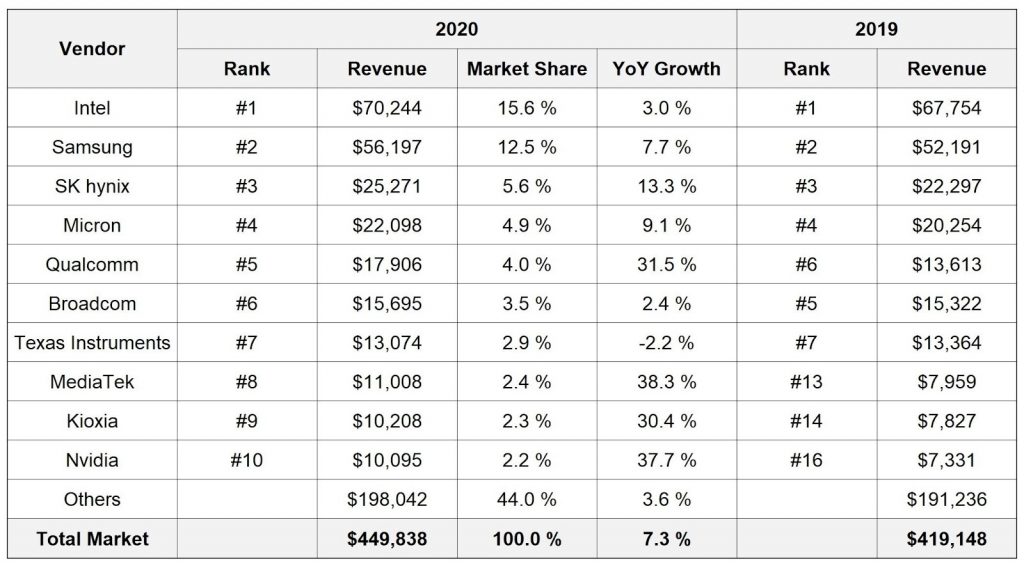 Semiconductor Market 2020. (Data source: Gartner)
Intel and the three next biggest vendors all maintained their relative positions atop the sales charts. Qualcomm and Broadcom swapped 5th and 6th places, and Texas Instruments held steady in 7th. The biggest gainers were MediaTek and nVidia, which both grew by a whopping 38% in one year. That catapulted MediaTek from 13th to 8th, while nVidia jumped to 10th from its 16th place position last year. Kioxia, the flash memory spinoff from Toshiba, also moved up the charts from 14th last year to 9th this year. STMicroelectronics, NXP, and Apple all fell out of the Top Ten compared to 2019. 
Collectively, these ten vendors account for 56% of the entire global semiconductor industry. That means all the other semiconductor vendors in the world put together make up the other 44%. The top seven alone account for half of global revenue; everyone else splits the remaining half. 
Every company on this list saw healthy single- or double-digit increases in sales, with the exception of Texas Instruments, where sales shrank by about $290 million, or 2.2%, versus the previous year. That still leaves TI solidly in 7th place ahead of MediaTek. 
After Intel, the three biggest vendors (along with Kioxia in 9th) are all memory vendors. It was a good year for memory makers, and it came just in time after a fairly disastrous 2019, when memory sales plunged by almost 32%. Overall memory sales were up by $13.5 billion, contributing 44% to the industry's coffers. The healthiest category was NAND flash, which grew by $10.2 billion all by itself, a 24% bump over the previous year. That's due in part to rising prices, not increased volume. Memory makers had to deal with a tough supply/demand see-saw over 2019 and 2020, which saw prices spike early in the year, boosting bottom line revenue (but frustrating engineers and purchasing managers). 
Where's all this growth coming from? Most of it ultimately points to remote working. Laptop PC sales were up, and that drove demand for CPUs, DRAM, and flash. Smartphone sales were also strong, but only in the financial sense. Although phone shipments were down compared to previous years, today's smartphones are more expensive than earlier models, so revenue increased even as unit volumes decreased. Phones helped MediaTek and Qualcomm in particular. 
Zoom calls and the like demand robust central servers, so server-related hardware shipments also boomed. Gartner says 65% of all servers are purchased by just a handful of "hyperscale" datacenter operators (Amazon, Microsoft, Google, et al.), and they bought a lot of hardware in 2020. 
The majority of companies in the Top Ten are American (Intel, Qualcomm, Broadcom, Micron, TI, nVidia) with two from Korea (Samsung, SK hynix), one from Taiwan (MediaTek), and one from Japan (Kioxia). 
It's an up-and-down business selling the world's most expensive sand. And it's amazing when an established business that's already doing $7 billion or $8 billion in sales (e.g., MediaTek or nVidia) can suddenly find another $3 billion under the sofa cushions. It's one thing to grow by leaps and bounds when you're still a young startup, but to generate 30+ percent growth at that stage of maturity is remarkable. Congratulations to the top vendors of 2020, and here's to tomorrow's winners.