The piper will be paid.
You can do all kinds of things to reduce currents in your wireless sensor node or other module that will be sending a signal. Heck, you can magically make it draw zero power, and still the piper will be paid.
Because when it comes time to transmit that data, then, by definition, you will expend power. That power is required to send your message from you over the air to wherever. That doesn't happen for free. And it's typically the most power-hungry part of a well-defined, optimized wireless module. There may be ways to get that transmission power down (like through envelope tracking), but even if you make it 100% efficient, that simply means that the only power used is the power of the signal. Which means you'll still need to pony up that power.
Or does it?
There's a new technique being investigated that challenges that notion. Although… there is no completely free lunch. A signal involves energy. Period. It's just a question of where that energy comes from; who pays for the lunch? What if you could pull energy that someone else already paid for out of thin air?
The amazing thing about this story is that it's surprisingly simple and intuitive. When it comes to communications and protocols, especially with cell phones, things are enormously complicated, and the obscure math and countless layers ensure that only the anointed really understand what's going on. So for something in its infancy to be dead simple was a delightful surprise to me.
That said, I was a bit concerned about my ability to write about it. So much research these days is locked behind paywalls, but some universities have free access policies, so walled-off papers are often available from the university that did the research. That's the case for this story, but there's a giant warning on the paper making me wonder if I need permission to be in the same room as a monitor displaying the paper's contents. Even "abstracting" is protected, they said. I was frankly wondering, based on the language, whether posting a link required permission. (I never did get a response from them clarifying that…)
But, with a little more thought, I realized that copyrights protect written words, not ideas. So if I use all my own words (which is what we do in these pages) and do my own drawings, then I'm not violating anyone else's copyright, and I can transmit the ideas at a level that will wet your whistles; you can dig further if you wish. So here goes.
There's a scheme in common use called "backscatter." It's employed by RFID readers: they transmit a signal to an RFID tag and the tag responds by reflecting that signal in a modulated way – scattering it back to the reader. This type of system involves the reader as a master, interrogating individual tags and determining which signals to listen to. And it means that the tag doesn't need to muster enough power to generate a new radio signal for the response.
The idea we're going to talk about today takes that concept one step further. It's been developed, with a proof of concept in place, by researchers at the University of Washington (aka You Dub). In huge swaths of the world, the air is full of radio signals. Whether it's radio or TV or cell phones or ham or whatever, we are awash in a sea of RF. Now… it takes energy to send those signals, so those signals transmit not only information, but energy as well.
The thing about broadcast is that it's indiscriminate. It sends a signal absolutely everywhere, and, frankly, most of that signal is wasted, dissipating off into a forest or hillside or out into space. Very narrow slivers end up at a terminal somewhere – a TV or phone or radio.
We've looked at wireless power and microwave harvesting, but those tend to involve only the transmission and extraction of energy, not information, from a signal. RFID backscatter per se doesn't harvest energy (although it can be combined with an energy harvester to power the control circuits); it merely uses existing signals, as sent by a reader, as the basis of the return signal. Taking that one step further and removing the reader from the picture, what if we could repurpose all those signals that we're swimming in?
Let's take a tropical detour to Gilligan's island. Let's say that an airplane flies over, and they're desperate to communicate with the plane. Now, of course, the professor could just jimmy the radio, but he doesn't seem to be around. (Funny… Marianne is missing too… O_o). So what would those guys do that's super fast (faster than lighting a fire) to let the plane know that there's someone down there? Simple: take a mirror and flash it at the plane.
They can send this message with no added signal energy: all they're doing is bouncing the sunlight that's already there in a way that can be interpreted by a human. So… what if you could play that same trick with the ambient RF signals? This is what's been [you] dubbed "ambient backscatter." It's like RFID backscatter, except that you're using the signals all around us rather than generating a new signal with a reader.
You can, with an antenna, reflect or absorb the signals that impinge on the antenna. In many cases, these signals are already arriving from all directions, since the original broadcast waves interact with lots of things and bounce around on their way to your TV (we'll focus on TV as an example, since it's what the researchers have used). So your TV, which has been built to deal with these multipath signals, may see a slight change in the amount of signal chaos that it has to filter through. The perturbance you create could just have well come from you walking through the room.
But by alternately reflecting and absorbing the signal, you can modulate your reflected wave to transmit your own signal. Like Gilligan doing Morse code with the mirror. You could then build something that specifically listens for this change.
"But wait," you object, "those RF waves are already carrying signals. Heck, Gilligan's Island could be playing on there at this very moment!" Yes they are, and it could. So you take MHz signals and turn them into, say, kHz data. The original signal is just so much noise riding on your slower signal. A simple low pass filter is all that's needed to whisk everyone off the island, or at least off your signal.
And "simple" is the key here: you've got to be able to perform this trick using as little power as possible, or else you completely defeat the purpose. It does take circuitry and some nominal power to do this, but you want to keep that power low, and, critically, you're not transmitting any new power.
Most RF receivers move quickly into the digital domain to process received signals; that takes too much power for this application. So the researchers went with analog instead. And they had two problems to solve. The first was eliminating the TV signal; the second was discriminating 1s from 0s in the code.
The first was done with a simple RC low-pass filter, averaging out the MHz. The second was a slightly trickier concept: because of power variations in the original signal, there's no fixed level to use as a reference for "high" and "low." One particular "low" may actually be higher than a "high" at another time. It all depends on the constructive or destructive interference of the original TV signals, which changes over time.
So what they did was to take the filtered signal and average it again. The first averaging eliminated the TV signal, isolating the lower-speed signal; the second averaging averaged the lower-speed signal. Now you can compare the actual low-speed signal to the average to decide whether it's above or below and then use that to determine "high" and "low." As the power level moves around, the average will as well, so it all tracks.
In theory, the two averaging circuits are the same but have different resistor values. They were able to combine them as shown below into a more efficient small circuit.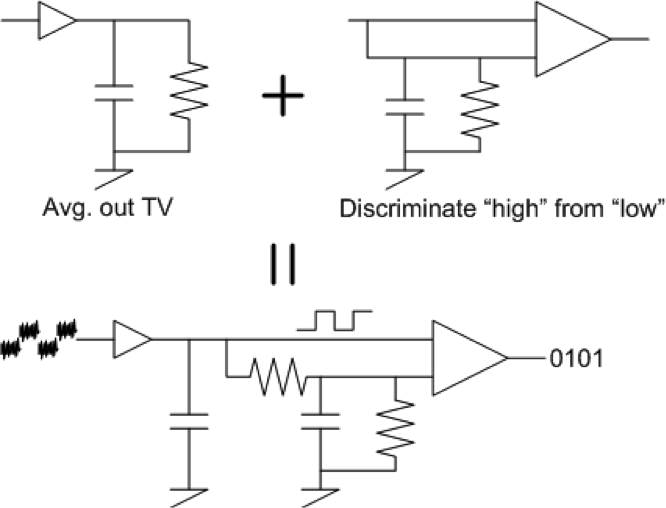 Modulation is also really simple. They used a dipole antenna and shorted the two sides together to reflect rather than absorb the signal.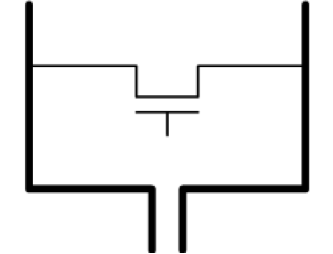 The coding scheme they used is called FM0; transitions rather than levels set the values and bit boundaries. A simple square wave is a series of 1s; an inversion mid-bit gives a 0. The code is naturally balanced in that the number of highs and lows will always even out.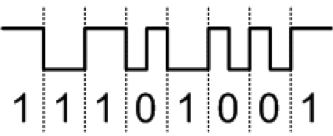 Of course, constantly checking for a signal will use power, so instead they use a lower-power circuit to check for a bit change. If one is detected, then the rest of the circuit wakes up. They've defined a simple communication frame; it includes a series of transitions at the beginning as a pre-preamble. This gives the receiver time to notice that something's coming and wake up in time to get the preamble.
The other thing they had to deal with was multiple access: again, unlike RFID, there's no master reader managing all the tag drudges. This is a wireless democracy, with different nodes communicating at will with each other or with a hub. So different modules might try to talk at the same time.
To manage this, they look at the average transition density in local signals when they want to transmit. This is 1-(#highs – #lows)/(#highs + #lows). (Note that these are the FM0 transitions, which balance, not the actual data, which could be anything.) If someone else is already transmitting, they you should see that the number of highs and lows is roughly equal, so the calculation should approach 1. If there is no signal, then you won't get that nice balance, and, due to the averaging and comparator, you'll see mostly highs or lows, and the formula will approach 0. In which case you are free to transmit.
See how simple this system is? No complex frequency-hopping math. Of course, there's a tradeoff: you can't send data as fast as, say, cell phones can. By a wide margin. And your range is much more limited. They were able to transmit at 1 kHz up to 2.5' outdoors (where the signal is stronger) and 1.5' indoors. Yeah, not that far. But they're careful to note that this is a first pass proof of concept; much more optimization is possible.
Example applications are for use as a bus pass, where you can transfer funds from one card to another, and for grocery store tagging, where an item flashes if it's on the wrong shelf. Both of which can be done with close proximity.
They didn't notice any TV interference unless they got closer than 7.2" from the antenna. Crucially, because they're not creating a signal, just bouncing one that's already there, they don't need to go through transmitter approval from regulatory bodies like the FCC.
They built a small module that included a flashing low-power LED and a touch sensor as an interface. In addition to using reflected signals, they also harvested the power from the RF signals. They were able to operate battery-free up to 6.5 miles from the transmitting tower.
Of course, not everyone lives right by a tower, and rural folks may find much less energy in the air. (Which may be why they moved out there.) So this won't work everywhere. But, at least as a proof of concept, it's pretty cool. And it kind of feels like you're getting away without paying the piper.
More info:
Google "University of Washington ambient backscatter" and you should find a PDF link.