Filmmakers know that lenses are investments and camera bodies are expense items. Lenses are forever (unless you drop them).
I have owned Canon SLRs and dSLRs continuously since 1972. I'm a Canon guy. When Canon introduced the new EOS EF lens mount system in the early 1990s, it obsoleted all of my old FD series lenses but I didn't care. I continued to use the old lenses as I had for two decades. However, when Canon finally made a responsive dSLR worth having—and named it the 20D—so I was "forced" to convert. For various technical reasons, FD-to-EF lens adapters were poor choices. Canon had made a clean break with the past and so I eventually traded in my old Canon gear for pennies on the dollar without looking back. (We'll maybe I looked back a little.)
However, entrepreneur Samuel Mello Madeiros has not stopped looking back and his vision and fondness for film cameras has produced something long dreamed of in the cameraverse: a digital camera back that could bring old film cameras (and their lenses) into the digital millennium. Madeiros' company, "I'm Back," has spent years developing a digital camera back that adapts to a variety of film cameras.
Madeiros' first attempt to crowdfund the project failed to achieve the needed funding level but a second attempt in April succeeded quickly, and the I'm Back camera back is back. (Sorry, couldn't resist.) You can no longer make a pledge on the I'm Back crowdfunding project page, but according to a YouTube comment Medeiros left just days ago on the YouTube page with the I'm Back video, you can still order a copy of the I'm Back camera back for  € 299. A dedicated adapter plate for specific camera costs € 49 or more.
What cameras does the back fit? The Web site lists the Nikon F, Canon AE-1, Pentax Spotmatic, Minolta Maxxum 7000, and Olympus OM10—all venerable picture shooters in their day. There's also a universal adapter plate if your cherished photo relic isn't on this list. The I'm Back camera back is already in the production pipeline with forecasted delivery in November or December.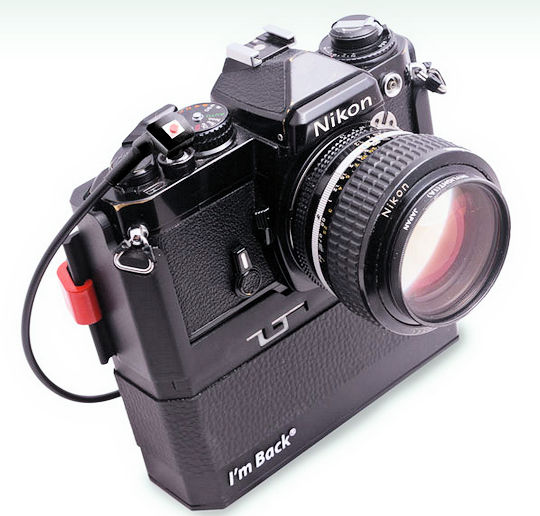 Now the YouTube video is pretty emphatic that the I'm Back camera back is not going to turn your vintage film camera into a modern digital camera and I'd have to say the sample photos back this claim. They sort of remind me of Lomography, which is based on the appeal of slightly blurry photos with plenty of chromatic aberration caused by cheap lenses. Hey, it's art. In fact, here's the corporate disclaimer from the Web site:
"I'm Back was created with the intention of reusing the old analog in a digital way, but maintaining a 'retro' aspect in the photos thanks to the focusing screen. It is not intended to have the quality of a digital camera of last generation, therefore, it is not an accessory to be at par with a digital or even an analog. I'm Back gives a unique result in its genre. In similar solutions, like 'Pinhole', 'Lomography', it gives photos with the use of a "Scanner" and other art form, yes, the art of photography is after all an art form and not something to be judged by the quantity of pixels or any less."
The sensor used in the I'm Back camera back is a Panasonic MN34120 16Mpixel CMOS image sensor that measures a mere 10.9mm along its diagonal. It's much smaller than a 35mm film frame and much smaller than even the cost-effective APS-C image sensor format that constitutes the bulk of today's dSLR imaging market. So how does an appropriately sized image land on the sensor? It's all done with mirrors, which reflect the image from a focusing screen fixed at the camera's film plane down to a small focusing lens and then to the sensor located in the main body of the I'm Back module slung underneath the camera.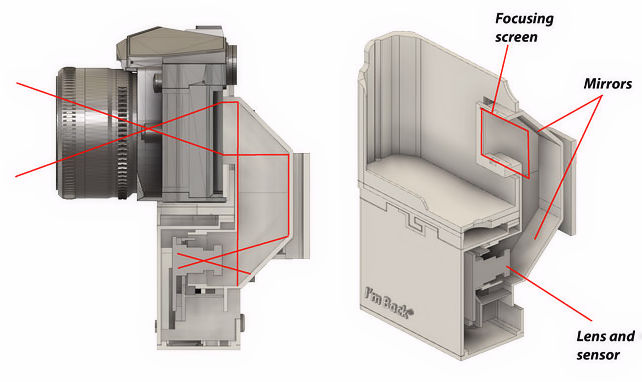 The I'm Back camera back employs a thoroughly modern Novatek 96660 image processor, allowing you  to take still photos and video using your vintage camera and lenses. If you want a digital way to enjoy your coveted film camera, then I'm Back is the only game in town.