Internet of Things (IoT) platforms have been a thing since we started talking about the IoT way back with our coverage of Ayla Networks. The idea is to provide all the pieces necessary for assembling an IoT application.
Problem is, "platform" is an incredibly overloaded term. In our context, it can mean an offering that includes everything you need, or it can mean a framework for interconnecting pieces (pieces not necessarily included). It may even refer only to a portion of an IoT installation, like wireless communication.
Redpine, known generally for its WiFi technology, has recently announced its own platform, which they call WyzBee. They appear to be targeting it largely at the Maker community, which is distinguished by diligent individuals off in garages and sheds with limited resources and negotiating leverage. The platform is being positioned as complete, womb to tomb, soup to nuts.
Not only are there Redpine-originated Things, but it has a design environment where you can create your production design – PC board and all.
What makes this stand out is the level of hardware integration they've provided – which they refer to as future-proofing. The platform implements WiFi ("n", both bands), Bluetooth LE, and ZigBee. The IP commonality afforded by 6LoWPAN in the otherwise non-IP Bluetooth and ZigBee networks helps tie this together into something more than just a board with three random radios on it.
The other integration they've provided in their SoC is Twitter and Facebook connectivity. This was apparently a difficult thing to get right. They've also implemented direct connectivity to a variety of Cloud services, meaning that applications can access them without a separate external proxy.
Network nodes can communicate using CoAP, MQTT, email, and texts. Security is bolstered by a hardware PUF: a physically unclonable function that establishes the device ID for binding purposes as well as supporting key generation for encryption and authentication.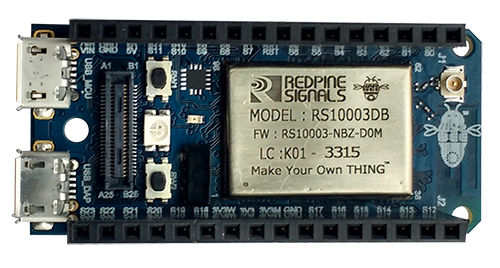 (Image courtesy Redpine)
You can read more about it in their announcement.