While at the recent Sensors Expo, I had a conversation with Anaren that drove home a point: with all of the focus on all of the fancy things that are theoretically possible with the burgeoning Internet of Things (IoT), back in the lab, folks are spending a lot of energy just to get devices connected. And many of the tasks – such as getting the radios up – require expertise that not everyone has.
Their focus is on the RF aspects of the design, with a couple radio modules leveraging Broadcom's WICED (pron. "wicked," apparently) technology. They've got a kit to help with development, but of course, with all the hardware in hand, you've still got to write software to get the RF integrated into the embedded Thing's stack.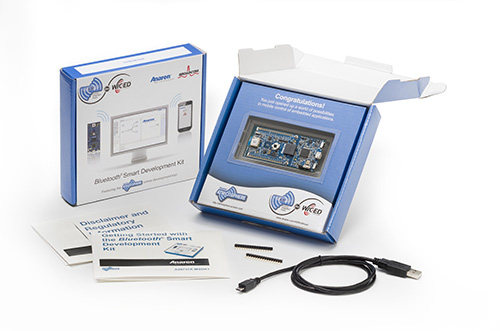 (Image courtesy Anaren)
So they've put together a free online tool called Anaren Atmosphere that they describe as being a Labview-like way of assembling the components of your embedded system. They build a communication stack via WebSocket, using RESTful APIs; the tool generates the appropriate code. They say they were able to obtain a door lock and get a connection up and working in a couple hours.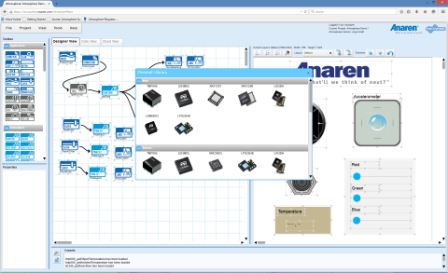 (Click to enlarge; image courtesy Anaren)
Putting things in perspective, however, this enables a smartphone to communicate with the device via Bluetooth. It's similar to the situation with Golgi that we looked at recently: you're really just setting up your phone to be a remote control for the device. Not that that's bad – if your phone can place all the remotes in the house at some point, that's probably a good thing.
But it includes no algorithms or other intelligence (typically pictured as happening in the Cloud – especially for small devices like door locks). The difference between this and Golgi is that Golgi uses the cellular system and comes in via the Cloud (but without custom algorithms and such); Anaren talks to the device locally.
Then again, this is just step one for them. Around the end of the year, they say that the tool will generate a website, so that starts to feel more like an IoT thing.
Atmosphere is also an ecosystem, and they're rounding up sensor partners. For now, ST is on their list, and they're looking to grow it. You can find more about the partnerships in their announcement.