A while back, we took a look at a couple of new resonant wireless charging approaches, including PowerByProxi. Their charging pad consists of multiple coils, allowing them to energize only the coils underneath a device being charged, and allowing multiple devices to charge independently and aiding efficiency.
To help drive adoption, they've released an evaluation kit consisting of a transmitter and two receiver modules. It will allow testing of device charging up to the rate of 7.5 W.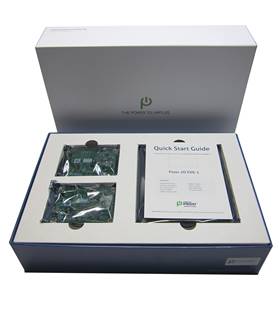 Image courtesy PowerByProxi
It's also interesting that I'm seeing more announcements of new wireless technology, some of which resembles the PowerByProxi approach. I'm checking on these things to see whether they're independent (and therefore possibly clashing) or simply one company licensing the technology of another.
I'll be following up once I get that all sorted.
One thing's for certain, though: there's a lot of activity in this space. Much of it is premised on the promise of a build-out of infrastructure so that folks going to coffeeshops and pubs and the like will be able to charge their phones while there without packing a charging cord. The real battle will heat up when that starts, unless someone finds an efficient solution blending the two leading standards. If that doesn't happen, then, unless one side capitulates, then there will be phones for Qi and phones for the A4WP solution, and where you can charge your phone will depend on which phone you have.
You can find more on PowerByProxi's eval kits in their announcement.