We create world-changing technology that enriches the lives of every person on earth.
We are inspired to:
Drive innovation that makes the world safer, builds healthy and vibrant communities, and increases productivity.

Harness our reach around the globe to better society, business, and the planet.

Push ourselves and our industry peers to be more responsible, inclusive, and sustainable.
We have big ambitions, and a growing sense of urgency to work with others and address world challenges no one can tackle alone.
Featured Content from Intel
featured paper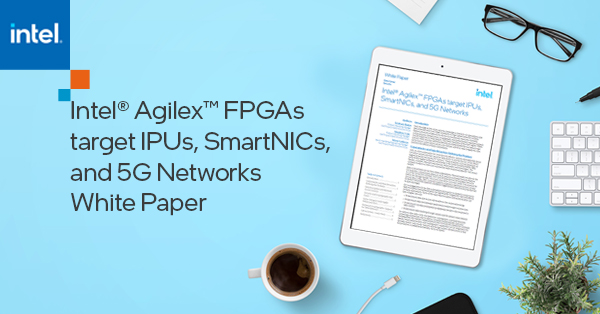 Intel® Agilex™ FPGAs target IPUs, SmartNICs, and 5G Networks White Paper
Security challenges in the form of cyberattacks and data breaches loom ever larger as attacks on high-speed networks multiply. Massive amounts of data are at risk but so are physical resources, including critical physical infrastructure. Cryptography and authentication represent potent countermeasures. The latest members of the Intel® Agilex™ FPGA and SoC FPGA families feature hardened crypto blocks paired with MACsec soft IP to help mitigate the risks and limit the effects of these cyberattacks.
featured video
Breakthrough FPGA news from Intel
As part of the numerous portfolio announcements associated with the launch of the 3rd Gen Intel® Xeon® Scalable processor, Intel also disclosed some breakthrough FPGA news: Intel® Agilex™ FPGAs now deliver industry-leading power efficiency and performance.
Chalk Talks Featuring Intel
Programmable Logic – Latest Posts