Display Advertising on EE Journal gives maximum impact for minimum budget.
Our Display Advertising program allows you to reach EE Journal's audience of professional engineers with optimized positioning on the home page of EEJournal.com, in content pages, and in EE Journal Daily email newsletters. And, your ads show on desktop, tablet, and mobile – putting your branding and messaging right where it counts.
Every campaign needs branding and awareness components to reach and influence the 99% of the target audience that isn't yet actively making a purchase decision. Display Advertising lets you make those critical positive impressions efficiently and effectively.

What You Get
Each Display Advertising campaign includes top, middle, and bottom banner placements plus a descriptive text ad/link on the home page of EEJournal.com, in the content areas of EEJournal.com, and in relevant email newsletters.
You make an impression regardless of where on the page the viewer is going, or how they access our content. If they read our email newsletters, you're there. If they come to our home page, you're there. If they come from a search engine directly to our articles, news stories, or forum topics, you're there as well. Even if they flow in from a social media site like Facebook, Twitter, or LinkedIn – your message is delivered, right alongside our audience-engaging content.
How do you know if your campaign is working?
We send you a monthly report of all your campaign results. Plus, we give you a secure login to our ad server where you can monitor and track your campaign in real time and download results and reports, as well as assistance and training from a Techfocus Media associate who will help you with any questions you may have.
What You Give Us (Specifications)
1.  First, purchase the total number of adviews that matches your program goals and budget. 
You can purchase any number of adviews. The following table gives rough guidance for various lengths and strengths of campaigns: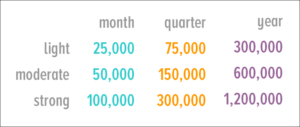 2.  When you're ready to get started, give us at least one two-ad group.
Note: You may submit as many of these two-ad groups as you like. Each two-ad group may be targeted separately to reach the audience you desire.
Each two-ad group requires:
IAB standard "Medium Rectangle" (300×250)
IAB standard "Leaderboard" (728×90)
Each ad must be submitted as .jpg or .gif. (.gif may be animated).
Optionally, you may ALSO include:
"Large Rectangle" (336×280)
"Super Leaderboard" (970×90)
Note: These are in addition to the Medium Rectangle and Leaderboard above, and will be substituted in some situations where the responsive layout makes more space available.
Each ad may also optionally be submitted in rich-media format for the web (HTML5, etc.) and may be delivered using popular third-party ad server tags. A .jpg or .gif ad is still required for browsers that do not support rich media and for email newsletters.
Ad materials are due one week prior to publication, and must be submitted to adcopy@techfocusmedia.com
* each ad above should meet IAB banner ad standards
** each ad above requires a target URL for click-thrus
3.  Finally, for each two-ad group you submit, we'll need to know:
(a) Start date and end date for this two-ad group
(b) Number of adviews you want to allocate to this two-ad group
(c) (optional) If you want to restrict this two-ad group to certain countries, a list of those countries. (Note: if you do not choose countries, your ads will be served globally.)
What It Costs
Targeted Display Advertising is sold on a CPM basis. 
Cost per 1,000 adviews (CPM) $160
Discounts are available. Contact your sales representative for a quote specific to your campaign needs. Dates are subject to availability and prior sale. Dates are only reserved once a signed Insertion Order is received, and cancellation fees apply.
Click here for our Terms & Cancellation Policy.