Today, a trade publication is much more than a website.
For over a decade, EE Journal has engaged the worldwide electronic engineering community. EE Journal reaches engineering professionals across a wide range of platforms and devices, from web to email to social media, and from desktop to tablet to mobile.
EEJournal.com offers daily original feature articles from expert editors, the latest industry news, insightful blogs, a rich library of technical papers, lively forums, effective advertising, entertaining and informative podcasts, webcasts, videos, and daily email newsletters – all serving the professional electronics engineer.
EE Journal is much more than a website. Today, an online publication must reach the audience through every available channel, and that means having a large presence in social media.
Each new piece of content on EE Journal is cross-posted to all appropriate social media channels, so every new article, blog post, news story, fresh byte, sponsored asset, or Chalk Talk gets exposure through our vast social media presence – all driving traffic back to EEJournal.com.

Circulation: 
Web: over 350K visitors per month to EEJournal.com
email: over 300K EE Journal Daily newsletters sent per week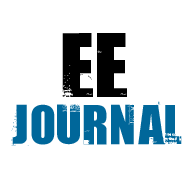 YouTube: over 300K video views per month
Facebook: over 195K followers
Twitter: over 13K followers
LinkedIn: over 1,600 followers
Syndicated on Apple News, Google News
Click here for detailed demographics

Audience: Engineering professionals and management engaged in all aspects of electronic engineering. Topics include: digital and analog hardware design, software development, board design, design tools, component selection, custom and programmable chip design, and career and human interest for professional engineers.