Boost Engagement with Your Company's Technical Papers
If your company is like most of our sponsors, you spend a lot of time and energy creating technical papers to support your content marketing and awareness programs. Unfortunately, those papers often languish on your website, gathering little engagement.
PaperBoost from EE Journal can dramatically increase the engagement with your company's technical papers.

PaperBoost takes full advantage of EE Journal's huge engineering audience and massive social media engagement to drive the maximum number of qualified engineering readers to your papers.
Contact our sales team today and learn how PaperBoost from EE Journal can help you become a content marketing hero at your company.
What You Get
Your boosted papers will be listed as "Featured Papers":
EEJournal.com home page
EEJournal.com content pages – articles, news stories, etc.
EE Journal Daily e-mail newsletters
EE Journal Facebook page
EE Journal Twitter stream
What You Give Us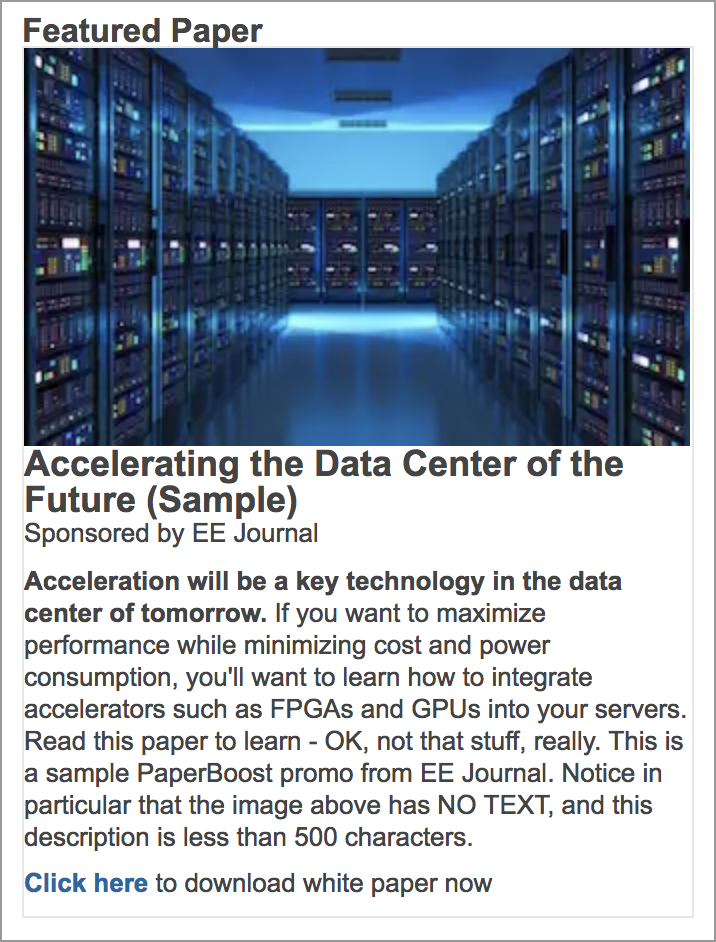 For each paper you want to boost (you can purchase up to 20 boosts per month), just send us:
The paper title
A brief description of the paper (500 characters or less)
URL to the landing page on your site where the paper is hosted
A "cover" image meeting the below requirements:

Image must be 600 x 314 pixels (or greater) with a ratio of 1.91:1
You may optionally ALSO submit a square image 300 x 300 pixels (or greater). If you do not, your landscape image will be automatically cropped to square in some renderings.
Image cannot include text  (Images containing text significantly degrade results on social media. We recommend a nice, properly-licensed stock photo related to the topic.)
We'll take care of the rest!
Additional recommendations:
Make your "cover" image creative and engaging – something that conceptually evokes your topic rather than a literal picture. (Pictures of chips get pretty boring.)
Remember that your cover image will be small in some of the promotions. Choose something that looks good even at a small size.
Craft a title and abstract that will make the reader want to know more.
Registration walls are allowed, but our experience shows that you lose 90-99% of your readers by requiring registration before they read your paper. It is usually better to have 10-100x more qualified readers engaged with your content rather than getting 1% of those who click to register.
What It Costs
List price $2,500 per month per paper.
Discounts are available. Contact your sales representative for a quote specific to your campaign needs.
Click here for our Terms & Cancellation Policy.